We are in full on berry season and this week it's raspberries that are making their yearly ice cream debut. And since the berries are ripening fast, we need to get them while they're hot and into the ice cream ASAPeronie. We've been talking to our friends down at Singing Hills Dairy about using some of their products in our ice cream and it seemed only fitting that this would be the week since chevre and raspberries make for a killer combo. Singing Hills Dairy, located in Nerstrand, MN, is a small 25 acre sustainable goat farm where Lynne Reeck and Kate Wall farm pasture raised goats. Lynne and Kate aren't just goat farmers, they're also cheesemakers, turning their high quality goat milk into a variety of plain and flavored chevres and fetas. Check them out, and please support them, Saturdays at the Mill City Farmers Market and Fulton Farmers Market and Sundays at the Kingfield Farmers Market. With that introduction, lets get to work on this week's flavor: Orange with Raspberry Honey and Singing Hills Chevre.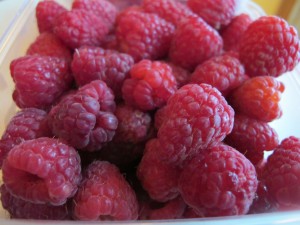 We are lucky enough to have a few friends that sport quality raspberry patches right here in the city of Minneapolis. These beauties are sweet and plump and ready for your mouth.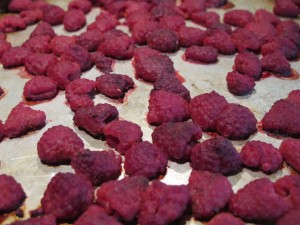 As with most fruit and berries, we need to find a way to reduce or displace their moisture content. This week we decided to roast these raskelberries, condensing their flavors into pure raspberry tartness…raspberry bombs!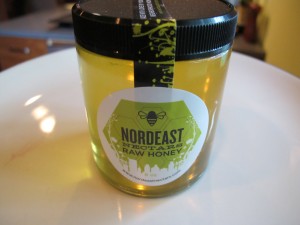 If you're one to actually read our blog posts, you'll know how much we love our Nordeast Nectars honey…liquid gold. We just featured them in last weeks flavor, Salt Bagel with Cream Cheese and Honey. 
The Nordeast Nectars raw honey gets mixed together with our roasted raspberries and then layered into our pints during packaging.
Singing Hills Dairy plain Chevre! As we mentioned before, this is one of a few handfuls of artisanal goats milk cheeses they are making. Other chevres they offer include: Herbed, Garlic Pepper, Marinated, Honeyed, Cranberry Walnut, and Pesto Torte. This week we decided to use their plain, and wanted to try something that we've never tried before…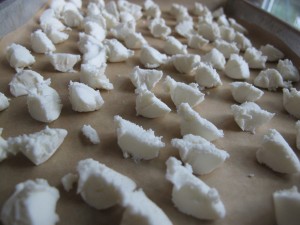 Using soft cheeses in the past, we've generally incorporated them into the ice cream base. We wanted to try and create pockets of cheese in the ice cream, so we start by scooping out small chunks of chevre onto a parchment lined sheet pan. Into the freezer so chunkersons would individually freeze. These frozen chunks get thrown into the ice cream at the end of the churn, and to our surprise they ended up staying relatively hard in the ice cream. They add a great texture contrast while offering the spectacularly clean tangy flavor of Singing Hills Chevre.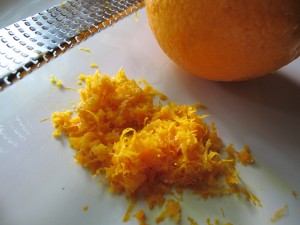 And lets not forget about our base flavor component: Orange! We add the zest of our oranges to our ice cream base which deepens the flavor pairing well with both the raspberries and the chevre.
Oh, it's on! Berry season in full effect here at FrozBroz. You can see it all happening right here in our Orange with Raspberry Honey and Singing Hills Chevre.
Like to try some?  As we do every week, we'll be giving away two pints of this flavor. Just leave a comment on our facebook page to be entered into the drawing. If you don't have a facebook account, leave a comment right here on the blog. We'll draw two winners on Friday afternoon (7/6/2012) at 4pm and will announce them on our facebook page (or email you if you're comment resides here). Our only conditions are you must be able to pick it up here in Minneapolis, and be willing to give us a little feedback that can be shared with everyone else. Good luck!