The end of summer is all about utilizing every last bit we can pull out of the earth.  Might be via canning, or pickling, or simply making new dishes and finding new ways to eat things.  The eggplant idea hit me literally just from seeing them at the farmers market and I thought, why not?  Eggplant offer a subtle sweet flavor that I often use in cooking more as a dimensional/flavor component then as a feature item.  That subtle sweetness works wonderfully in ice cream, no matter how strange it might sound.  But for fun, let's add some shortbread.  Or maybe shortbread with a good parmesan cheese?  Now we're talking.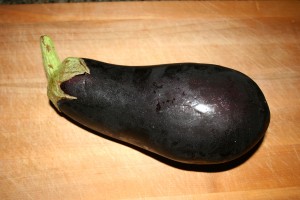 Lets start with the eggplant – for the ice cream, the eggplant is sliced, roasted off until nicely browned and blended into a smooth puree that is added to the ice cream base before the cooking process.  Roasting helps eliminate the water from the eggplant and rounds out its flavor.
Next, the shortbread.  We make a regular shortbread with butter, flour, fresh shredded parmesan and a little bit of sugar.  It's cut into cookies, baked off and then chopped up into small bits to add into the ice cream.
Blammo.  It sounds a lot more weird than it really is.  The roasted eggplant provides the ice cream with a nice undertone paired with an umami crunch from the parmesan shortbread.  A great late summer harvest bite of ice cream.

You can be one of two lucky winners of this fabulous, scratch made craft ice cream in our weekly pint giveaway. Enter your name in the comments section here, or on our facebook page under the posted contest. Two winners will be drawn randomly on Friday 9/5/14 at 4pm. Winners must be able to pick up locally. Prizes must be claimed by email within one week or we will redistribute. 🙂 Good luck!