This week's flavor idea comes to you as so many do…pure inspiration from seeing great techniques from other peeps. This particular inspiration comes from the goddess of dessert at Momofuku Milk Bar, Christina Tossi. On an old episode of "Mind of a Chef," Tossi toasts shiro miso paste to a dark almost burnt color, blends it with oil and smears it on a plate as an accompanied sauce to one of her desserts. First, it got me thinking about Asian flavors; and second, it got me thinking about the toasting process and how we can apply it to create deeper flavor. So let's get started with this week's flavor – Toasted Brown Rice and Miso.
After I saw the miso toasting process, my first thought was to incorporate it into the ice cream, but with what? I wanted deep, nutty flavors. Brown rice came to mind as a nutty, earthy flavor that my family eats often. But what if I toasted the brown rice first? It is a grain. Just like when barley gets toasted for beer. By now, my flavor concept has blossomed into one that I am diggin' on, big time! For the toasted brown rice, it gets toasted in a pan, dry, over medium heat, tossing regularly until fragrant and golden brown. The rice is ground to a powder in a spice grinder and added to the ice cream base before cooking. Again, I wanted to deepen the flavors of our ice cream base for this flavor, so I substituted part of the cane sugar with brown sugar. As you might think, the brown sugar brings out more of those caramel nutty flavors. Now for the miso…
This is Japanese Shiro Miso AKA white miso AKA fermented soy beans. Also known as a sweet miso, it's also going to add the majority of the saltiness to this flavor. The miso gets spread thin on a Silpat baking mat and baked low until golden brown in the middle and dark brown on the edges. This is nowhere near the toast level that Christina Tossi takes hers to, but it's exactly what I'm looking for to finish this flavor. The toasted miso gets scraped off of the Silpat and goes into our ice cream base with the toasted rice powder before cooking. The ice cream base is pasteurized, the ingredients are steeped, and then strained through a fine mesh strainer. A touch more sea salt gets added and the base is cooled and ready to churn.
As a side note, I decided to take the strained/leftover rice powder, spread thin on a Silpat, and bake at 275 degrees for about an hour, I salted it, and it happened to be a nice crunchy crumble to serve on top.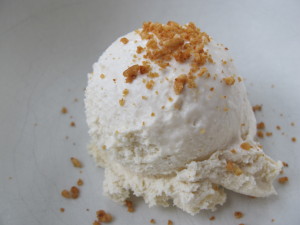 Salty, sweet, umami. Inspiration makes this flavor all of that!
Toasted Brown Rice and Miso 
2 Cups Heavy Cream
1 Cup Milk ((choose your percentage based on how fatty/creamy you'd like your ice cream to be – the higher percentage the creamier the ice cream)
2 Large Eggs
1/2 Cup Cane Sugar
1/4 Cup Brown Sugar, packed
1/4 Cup Brown Rice
2 Tablespoons White Miso Paste
1/4 teaspoon sea salt
Instructions:
1. Preheat the oven to 325 degrees Fahrenheit. Spread miso paste on Silpat or other baking mat and bake until golden brown in middle with dark brown edges, approx. 12-15 minutes. Remove from the oven.
2. Make toasted brown rice powder: In a skillet or wok over medium high heat, add the rice and stir frequently. It's ok if the pan is smoking. Some of the rice kernels will pop. This is ok too. Toast until deep golden brown. Cool. Grind in spice grinder.
3. Make ice cream base: Crack eggs into a mixing bowl and whisk fully.  Add sugar and whisk.  Add cream, milk and salt and and whisk until cream, sugar and eggs are combined. Add toasted rice powder and toasted miso. Whisk.
4. Cook/pasteurize ice cream base: Place ice cream base in a small pot and heat over medium heat, whisking or stirring continuously until temperature reaches 165-170 degrees. Remove from heat and cool to room temperature (an ice bath will do this in about 15-20 minutes). Strain base through a fine mesh strainer and put base in a clean container, cover, and chill in refrigerator overnight.
5. Churn ice cream base in ice cream machine according to manufacturer's instructions.
*Yields approximately 2.5 pints
If you'd rather not make it, you can be one of two lucky winners of this fabulous, scratch made craft ice cream in our weekly pint giveaway. Enter your name in the comments section here, or on our facebook page under the posted contest. Two winners will be drawn randomly on Friday 1/16/15 at 4pm. Winners must be able to pick up locally in Minneapolis. Prizes must be claimed by email within one week or we will redistribute. 🙂 Good luck!