Staying inspired by the harvest that continues to roll in, for this week's flavor, I'm using components from a sauce I used to make. A sauce consisting of roasted yellow pepper, saffron, honey, garlic, dijon mustard, and rice vinegar. It is an excellent accompaniment to grilled salmon and always best when red and yellow peppers are in season.  I clearly needed to revise my ingredient list if I was going to convert this thing into an ice cream, so for the ice cream, roasted pepper, saffron and honey made the most sense to me. And hey, it worked! Let's get it started…this week's flavor – Roasted Yellow Pepper Saffron and Honey.
First, roasting the peppers, which starts with these gorgeous ones from the Midtown Farmers Market in Minneapolis. I like to roast my peppers over an open flame, if possible. It's quick, and gives the peppers a nice char. Once the peppers are charred all the way around, I wrap them tight in plastic wrap and allow them to sweat for a few minutes. The sweating process loosens all that charred skin, and makes it simple to scrap off. Now that we have our roasted peppers, it's time to make them usable in our ice cream.
As with all of our flavors, we strive for an ice cream that never turns out icy, which can be challenging when working with fresh fruits and vegetables. Naturally, they all have a lot of moisture, so to reduce the moisture content, our first step is to clean our roasted peppers and puree in a blender. The puree is strained through a fine mesh strainer. We try to push out as much moisture as possible. We are left with two things – one, a roasted yellow pepper paste, and two, pepper liquid from pressing through the strainer. We reserve our paste and make another paste using the liquid, with a small amount of sugar added to it. In a sauce pan the liquid mixture is reduced down over high heat. We stir constantly so not to burn, and what we are left with is a dark roasted yellow pepper paste that is packed with flavor. This paste is added to the stained version and is put on reserve for the ice cream base.
Saffron! I'm sure you've all heard of it, right? Worth its weight in gold, and used in Spanish and Middle Eastern cooking. Yes, yes, all of these things, but it's also wonderful in ice cream and desserts. A small amount goes a long way, so for the ice cream base, we add a pinch to our standard cane sugar base before pasteurization. Our roasted yellow pepper pastes are also added at this time. After pasteurization, and a brief steep, our base is cooled and is ready to churn.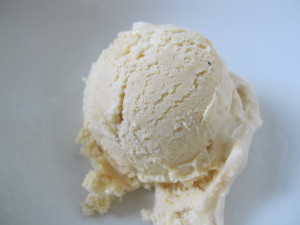 After churning, we layer in a generous portion of Ames Farm Honey, and the results are this wonderful flavor that is created by the combination of the saffron, roasted yellow pepper, and honey. It's rich, creamy, without a hint of iciness. Another harvest vegetable successfully incorporated into our ice cream!
Roasted Yellow Pepper Saffron and Honey
Roasted Pepper Pastes:
1 Yellow Pepper, Large
2 teaspoons sugar
Ice Cream Base:
2 cups Heavy Cream
1 cup Milk
3/4 cup Cane Sugar
2 Eggs
1 teaspoon Sea salt
Pinch Saffron
Reserved Roasted Yellow Pepper Pastes
2-3 Tablespoons Honey, for layering into finished ice cream
Instructions:
1. Roast Pepper: Place pepper over an open flame, such as gas stove top burner. Char all sides of the pepper until the pepper's skin is entirely black. Wrap the charred pepper tightly in plastic wrap or other type of sealable bag. Allow pepper to sweat for 5 minutes. Remove pepper and using fingers or knife, scrape all of the black skin off of the pepper (there may be a few flecks of char that don't come off, and this is ok). Clean the pepper as you normally would, removing the seeds and any white ribs on the inside. You should be left with only the roasted pepper flesh.
2. Prepare Roasted Pepper Pastes: Using a blender or food processor, puree roasted pepper. Place a fine mesh strainer over a bowl, and pour pepper puree into strainer. Using a spatula, press all of the liquid through the strainer, until all that is remaining is paste. Reserve this paste for the ice cream base. Pour the roasted pepper liquid from the bowl into a medium sauce pan with 2 teaspoons of sugar. Over medium high reduce the liquid, stirring constantly so it doesn't burn to the bottom of pan. Continue reduction, until an almost brown paste forms. Add the reduced paste to the paste from strainer and reserve for ice cream base.
3. Make ice cream base: Crack eggs into a mixing bowl and whisk fully.  Add cane sugar and whisk.  Add heavy cream, milk, salt, saffron, and roasted yellow pepper pastes.  Whisk until ingredients are combined.
4. Cook/pasteurize ice cream base: Over medium heat, whisk or stir base continuously until temperature reaches 165-170 degrees.  Remove from heat. Cool ice cream base to room temperature (an ice bath will do this in about 15-20 minutes). Cover base, and chill in refrigerator overnight.
5. Churn ice cream base in ice cream machine according to manufacturer's instructions. Swirl in honey after ice cream is in storage container. Store ice cream in air tight container in freezer until chow time.
*Yields approximately 2.5 pints
If you'd rather not make it, you can be one of two lucky winners of this fabulous, scratch made craft ice cream in our weekly pint giveaway. Enter your name in the comments section here, or on our facebook page under the posted contest. Two winners will be drawn randomly on Friday 9/25/15 at 4pm. Winners must be able to pick up locally in Minneapolis. Prizes must be claimed by email within one week or we will redistribute. 🙂 Good luck!