Have you ever had a burger with peanut butter and bacon? I hadn't until recently, and it was shockingly delicious. So shocking delicious that I thought it would make for a shockingly delicious ice cream. Turns out, it is! Let's get started with this week's flavor – Peanut Butter and Bacon.
Organic peanut butter. Creamy organic peanut butter. Very creamy organic peanut butter. It's all of those things, and it is what we are using to make our peanut butter base. For this flavor, I decided to use a brown sugar base to add more depth and caramel tones. The peanut butter is added to the base and pasteurized by cooking to 165 degrees F. Just like adding regular butter to our ice cream, the added fat from the peanut butter tends to separate. If not emulsified, the ice cream will leave a film on your mouth and on the utensil you use to eat it. To emulsify, the ice cream base gets run through a blender on high speed. After an ice bath cool down, the ice cream is ready to churn.
Not before preparing our bacon though. Not just bacon. Candied bacon. I chose to candied the bacon, for one, because after all, it is going into ice cream. Secondly, I want to get a relatively hard layer on the outside of the meats, so the ice cream doesn't soften it over time, making it chewy and unpalatable. FYI, nitrate free bacon here. Thick cut deliciousness. The bacon is given a rub down with brown sugar. In to the oven until caramelized. I like to cool my bacon on a wire rack to achieve a full crunch factor. Once cooled, the bacon is chopped up and is ready to toss into the peanut butter ice cream at the end of the churn.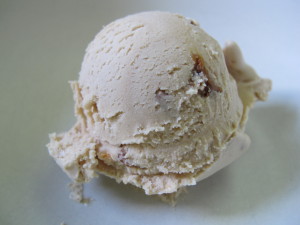 The finished product results in an intensely creamy peanut butter ice cream with sweet and salty bits of candied bacon. It's shockingly delicious!
Peanut Butter and Bacon
1 # Bacon, thick cut
1/3 cup Brown Sugar
2 cups Heavy Cream
1 cup Milk
1/2 cup Brown Sugar
1/2 cup Peanut Butter, creamy
2 Eggs
1 1/8 teaspoons Sea Salt
Instructions:
1. Candied Bacon(makes enough for the ice cream and extra to eat!): Preheat oven to 400 degrees F.  Line a sheet pan with foil. In a bowl, toss the bacon with 1/3 cup brown sugar until evenly coated.  Lay bacon on sheet pan in a single layer.  Bake in oven for 30-40 minutes until crisp.  Check bacon periodically after 25 minutes to make sure it doesn't burn.  Remove from oven, and move bacon slices to wire rack to cool.  Once cool, freeze bacon, and then chop frozen bacon into 1/4 inch bits.
2. Make ice cream base: Crack eggs into a mixing bowl and whisk fully.  Add brown sugar and whisk.  Add heavy cream, milk, peanut butter and salt.  Whisk until ingredients are combined.  Peanut butter will break up and incorporate as the base is heated in step 3.
3. Cook/pasteurize ice cream base: Over medium heat, whisk or stir base continuously. Keep stirring continuously until temperature reaches 165-170 degrees.  Remove from heat and place half of the base in a blender (***DANGER! BE CAREFUL BLENDING HOT LIQUIDS***).  Blend on high for 20 seconds.  Pour into a clean bowl. Repeat blending process with remaining ice cream base.  Cool blended ice cream base to room temperature (an ice bath will do this in about 15-20 minutes).  Put base in a clean container, cover, and chill in refrigerator overnight.
4. Churn ice cream base in ice cream machine according to manufacturer's instructions. Add 1/3 cup of candied bacon to ice cream at the end of the churn.  Store ice cream in air tight container in freezer until chow time.
*Yields approximately 2.5 pints
If you'd rather not make it, you can be one of two lucky winners of this fabulous, scratch made craft ice cream in our weekly pint giveaway. Enter your name in the comments section here, or on our facebook page under the posted contest. Two winners will be drawn randomly on Friday 5/22/15 at 4pm. Winners must be able to pick up locally in Minneapolis. Prizes must be claimed by email within one week or we will redistribute. 🙂 Good luck!