This week we set out on a flavor quest that needed to become a reality. We've said it before, but it's hard to find an ingredient that doesn't marry well in ice cream, and we can safely say that has been the case with all of our vegetable experimentations. Cauliflower is one that we haven't played around with too much, and I just couldn't get this idea out of my head to char cauliflower over a wood fire. I mean, just to eat that sounded good to me, but putting it in ice cream? Yeah, that had to work. Let's find out…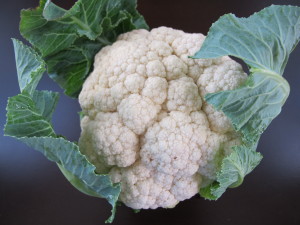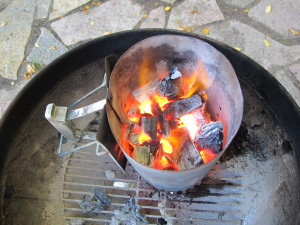 It always starts with having wonderful ingredients and this head of cauliflower from Gardens of Eagan couldn't be any more wonderful. It's still warm from being on the truck coming from the farm. Look at it! It's perfect! To get the process started, I lit up a batch of oak charcol in a silo type charcoal started. After preparing the coals, I threw a grill grate right over the top of the silo and began charring the cauliflower on all sides. By charring, my hope was to bring out some natural sweetness and nutiness from the caramelization. It worked!
After the charring, the cauliflower gets pureed with cream and then cooked in our organic sugar cane ice cream base. After cooking and steeping, the cauliflower gets strained through a fine mesh sieve. The ice cream base is salted and cooled before it's ready for the churn.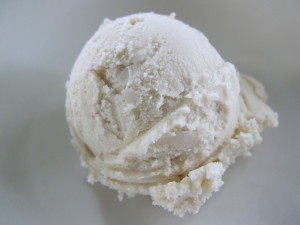 It's ready and it's a reality! This weeks flavor: Charred Cauliflower – ice cream infused with wood fired cauliflower. It's creamy, nutty, and earthy, and it's ready for your mouth.
Want to try it? You can win one of the only two pints in the world, filled with this fabulous, scratch made craft ice cream in our weekly pint giveaway. Enter your name in the comments section here, or on our facebook page under the posted contest. 2 lucky winners will be drawn randomly on Friday 10/25/13 at 4pm. Winners must be able to pick up locally and give us feedback. Pints must be claimed by email within one week or we will redistribute. 🙂 Good luck!