Winter and the holidays are upon us, which got us thinking about seasonal beverages. We can safely say that our go to holiday beverage is a whiskey eggnog. As frozen brothers, we generally slurp one of these down during weekly meetings this time of year. It was a year ago that we released our Eggnog with Whiskey Caramel  ice cream. As for this week, we decided tohead back to our Scandinavian roots and work with a beverage that pretty much looks, smells, and tastes like the holidays. Gløgg! Let's get started…
For those of you unfamiliar with gløgg, it is the Nordic version of mulled wine. It can be spelled many different ways, but staying true to our heritage, we decided to go with the Norwegian spelling. The variations of gløgg recipes are wide ranging, but two things it is certain to have are wine and spices. Our mulling blend above include cloves, cardamom pods, cinnamon sticks, raisins, almonds and orange zest.
We add Port, red wine, and a simple syrup of brandy and sugar to the blend.
The wines and spices get simmered down with a cover on for about an hour and then the mulling spices get strained out with a sieve. 
The finished gløgg is ready for sipping. The flavors are deep and complex, yet so simple. It wreaks of winter and holidays and conjures up nostalgia as it hits your lips. As for our ice cream, the gløgg gets reduced down to a syrupy consistency. Some of the reduction gets added right into our brown sugar ice cream base. The remaining gløgg reduction gets added into a traditional caramel we made with granulated sugar. The  gløgg caramel gets layered into our gløgg ice cream during packaging.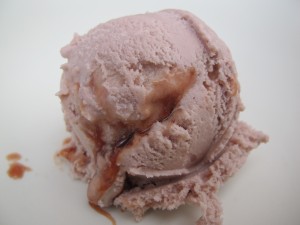 The result is an über holiday ice cream – rich, creamy, and deep with flavors of mulled wine and spice. The perfect ice cream for a winter holiday evening.
You can win one of the only two pints in the world, filled with this fabulous, scratch made craft ice cream in our weekly pint giveaway. Enter your name in the comments section here, or on our facebook page under the posted contest.  2 lucky winners will be drawn randomly on Friday 12/19 at 4pm.  Winners must be able to pick up locally and give us feedback. Pints must be claimed by email within one week or we will redistribute. 🙂 Good luck!