Nothing spells summer like sipping on a Mojito in the sun.  For those of you not familiar, a mojito is a rum-based cocktail flavored with fresh mint, lime and mixed with club soda.  It's a flavor we've kicked around for ice cream a number of times, but when we recently solicited our facebook fans for flavor ideas it came roaring back to life.  With that extra encouragement we went back to the drawing board and came up with a version that we're pretty darn happy with – and hopefully our fans will be as well.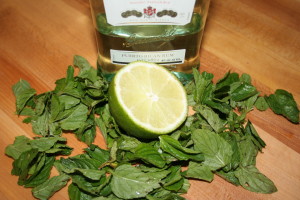 This flavor revolves around the mint, lime and rum of the mojito.  To avoid having a mint ice cream that would overpower the rum and lime flavors, we chose to put the mint into a syrup.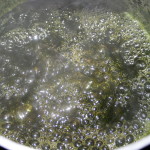 First the mint is pureed with a bit of water and then brought to a boil with sugar to create a syrup.
Since the mint loses it's nice green color and a some of the fresh flavor while being cooked into the syrup, more fresh mint is added into it once the syrup has cooled.  In addition, the rum part of the equation comes in here -the rum is also added to the syrup once cool.  We add it to the syrup rather than the ice cream itself because it has a tendency to stand out a bit more in the flavor when concentrated into a syrup vs. diluted into the ice cream base.  The syrup gets swirled into the ice cream at the very end.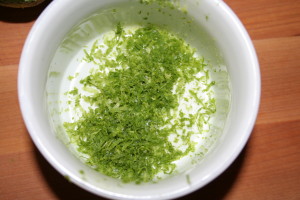 The base of the ice cream holds the lime flavor.  And the best way to naturally impart a fresh lime flavor into the cream is to use the zest of the lime.  The lime zest steeps in the cream during the heating process and creates a nice lime flavor without adding any additional water content (which is ice cream's #1 enemy).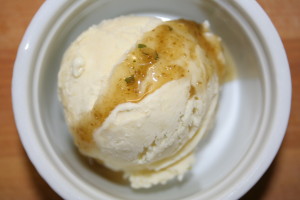 The scoop is a summery lime ice cream swirled with a fresh mint and rum syrup.  Happy summer!
Mojito 
2 Cups Heavy Cream
1 Cup Milk ((choose your percentage based on how fatty/creamy you'd like your ice cream to be – the higher percentage the creamier the ice cream)
2 Large Eggs
1-3/4 Cup of sugar
1 Cup of fresh mint
1/4 teaspoon sea salt
1 Tablespoon Rum
1 Tablespoon of Lime Zest
Instructions:
Prepare syrup (should be prepared at least 1 day ahead: Puree 1 Cup of mint with 1/2 Cup of water. Place mint/water puree in pot and add 1 Cup of sugar. Bring mixture to light boil over high heat until it reaches a temp of 220 degrees Fahrenheit. Or if you don't have a candy thermometer (I do this even with one): boil for approximately 5-7 minutes, remove pot from heat and spoon some of the syrup into a small glass ramekin, plate or bowl. Place the sample in your freezer for around 15 minutes. When at least 15 minutes have passed, and make sure it has cooled to a sticky syrup consistency. If its really thin you will need to boil a bit longer and do the freezer test again. If it's too thick, you might need to add a tablespoon of water to the pot. Once you have reached that desired syrupy consistency you know you've got it where you want it. Once the whole mix is cool (this is key) add another 1/4 cup of finely chopped mint along with the rum and mix well. Then cool it all in a container until you are ready to freeze your ice cream.
2. Make ice cream base: Crack eggs into a mixing bowl and whisk fully.  Add 3/4 Cup sugar, and lime zest and whisk.  Add cream, milk, salt and and whisk until all are fully combined.
4. Cook/pasteurize ice cream base: Place ice cream base in a small pot and heat over medium heat, whisking or stirring continuously until temperature reaches 165-170 degrees. Remove from heat and cool to room temperature (an ice bath will do this in about 15-20 minutes).
5. Churn ice cream base in ice cream machine according to manufacturer's instructions.  Swirl in the mint rum syrup as you pack the frozen ice cream in a freezer proof container.  Let freeze for at least 4 hours or preferably overnight (if you can wait).  Enjoy!
*Yields approximately 2.5 pints
If you'd rather not make it, you can be one of two lucky winners of this fabulous, scratch made craft ice cream in our weekly pint giveaway. Enter your name in the comments section here, or on our facebook page under the posted contest. Two winners will be drawn randomly on Friday 6/26/2015 at 4pm. Winners must be able to pick up locally in Minneapolis. Prizes must be claimed by email within one week or we will redistribute. 🙂 Good luck!