We will not succumb to Fall.  Our answer? Jalapenos.
These beauties came from the fine farmers market in our former stomping grounds, Eau Claire, WI.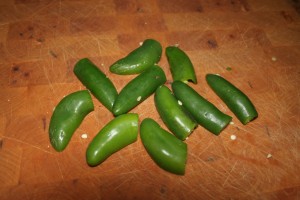 Steeped in the ice cream base, they provided a little bit of heat and the fresh pepper flavor is really incredible.  It really works surprisngly well in the cream.  Fresh summer jalapenos have an incredible fragrance and sweetness.
What goes well with Jalapenos?  Cotija cheese.  Cotija is a popular cheese in mexican fare  – similar to Feta, but saltier and more dry.  Salt is good.  Sugar is good.  Fat is good.  You get the drift.
Crumbly.
Our  favorite honey from Minnesota's own Ames Farm brings the cheese and the peppers together in a final swift blow.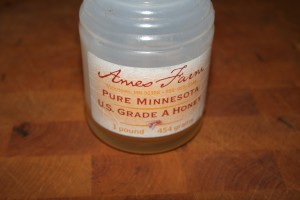 It's swirled in as the ice cream goes into the pint container so you get nice little rivers of it as you scoop.  Honey is so concentrated with sugar that it doesn't freeze, so it maintains its texture perfectly in ice cream.  Its not uncommon for it to form a little puddle in the pint container after you've had a scoop or two and freed it from its frozen confines.  And that's not a bad thing.
This is summer.
As usual, you can win one of two available pints this week — leave a comment on our facebook page at facebook.com/frozbroz to be entered into the drawing. If you don't have a facebook account, make your comment right here on the blog. We'll draw two winners later this afternoon and will announce them on our facebook page. Our only condition is you must be able to pick it up. Good luck!