We're at the tail end of fig season, and lucky for us, there is no shortage of ideas for ice cream flavors involving figs. My first thought and attempt was an Almond Mascarpone with Figs. I will explain later why this was an attempt. It definitely will be revisited and won't get scratched as the flavors were all there. After making this first batch, tasting, noting changes, tasting, eating, and tasting, I read that anise and figs make a great pairing. Immediately I threw some green anise seeds in the spice grinder and sprinkled some over a spoonful. That was it! It all made sense, and the finished product came together – Almond Green Anise with Figs.
Black Mission Figs – Beauties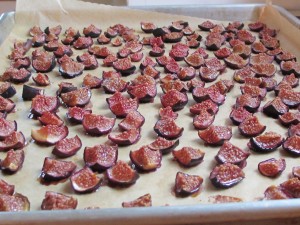 We cut up the figs, and slowly roast them on parchment as we do many fruits to reduce moisture and concentrate flavors. This also keeps the figs from attaining an icy texture in our ice cream. These are soft and chewy.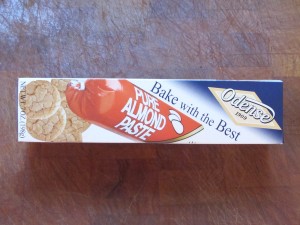 For the almond flavor we used pure almond paste. We infuse the cream with almond flavor by steeping with paste.
As mentioned, the first batch was not satisfactory, as the paste made the texture gritty in the mouth.
For this batch we strained out all almond solids with a fine sieve after steeping.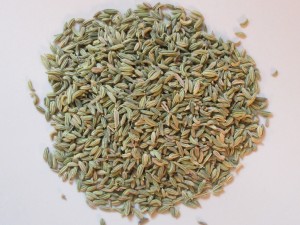 Green Anise seeds! These get ground to a fine powder and added into the base. The anise rocks your taste buds. This could very well become a Froz Broz flavor on its own. For this one, the combination of almond, green anise and figs are all working together in perfect flavor harmony.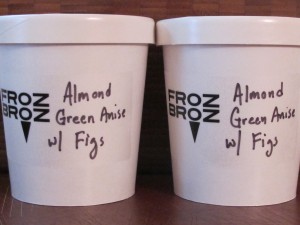 Get into it! Almond Green Anise with Figs
You can win one of two available pints this week, just leave a comment on our facebook page to be entered into the drawing. If you don't have a facebook account, leave a comment right here on the blog. We'll draw two winners on Friday afternoon (10/14/2011) at 4pm and will announce them on our facebook page. Our only condition is you must be able to pick it up here in Minneapolis. Good luck!