Every year I make a German chocolate cake for my mother-in-law's birthday. It's been her birthday cake tradition for as long as my wife can remember. Along with this cake, I've been making a coffee ice cream to accompany it, which pairs nicely with the espresso in the cake batter itself. I mean, I totally feel sorry for you if you don't like the combination of coffee and chocolate. My mother in-law? She loves the coffee and chocolate combo, and so the tradition lives on.
Ironically, inspiration from this yearly tradition has inspired us to do something nontraditional. Instead of serving you cake and ice cream, we're serving cake IN your ice cream – German chocolate cake in your ice cream that is.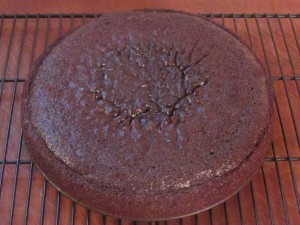 Lets get this party started. Lets get this party started right. Chocolate/Coffee cake style.
Probably my favorite part about this cake is the inner filling. It starts with shaved coconut and toasted pecans. Add sugar, egg yolks, evaporated milk, and vanilla…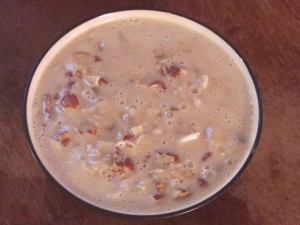 …this mixture is cooked on the range until it's thick enough to coat the back of a spoon – aka nappé.
I could eat this for breakfast.
After slicing the cake in half, I spread filling on the bottom half.
Throw on the top…
Oh yeah! Ganache! How could we forget? This is the same stuff we use to make our cocoa truffles for our Peace Coffee Cocoa Truffle ice cream. Devine Fair Trade Chocolate whipped with hot cream until smooth and velvety.
Happy Birthday Babs!
Covered in ganache and ready to slice.
Two frozen slices of German chocolate cake ready to be packed with coffee ice cream. Another FrozBroz original – German Chocolate Cake In Your Ice Cream.
And as every week previous, you can win one of two available pints of this weeks flavor, just leave a comment on our facebook page to be entered into the drawing. If you don't have a facebook account, leave a comment right here on the blog. We'll draw two winners on Friday afternoon (11/10/2011) at 4pm and will announce them on our facebook page. Our only conditions are you must be able to pick it up here in Minneapolis, and be willing to give us a little feedback that can be shared with everyone else. Good luck!