It's official, my favorite time of year has come…Tomato Season! I think we can safely say that the sooner we can purchase our produce after it is harvested, the higher it's quality and flavor will be. That's just one of many reasons to buy local, but as far as produce is concerned, it's not always possible here in Minnesota, and some of our alternatives can satisfy those winter cravings. But tomatoes are one of those fruits that are really only good during the local harvest season. I've had plenty of "ok" tomatoes during the off season, but this time of year, tomatoes are a gold mine and their flavors are fantastic. As the harvest rolls in, many folks are canning and freezing their tomatoes, so here at FrozBroz we wanted to share another alternative for saving some of this tomato season for the months to come. And in the process put some of that hard work into our ice cream. So let's get started with this week's flavor…Tomato Jam!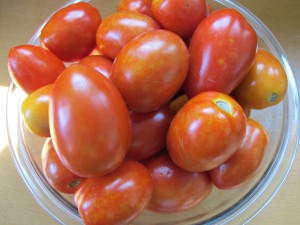 Roma tomatoes purchased at our lovely Midtown Farmers Market. Check them out when you can, cause the vibes over there be jammin.
If you've ever canned tomatoes before, the first thing you have to do is get the skin off.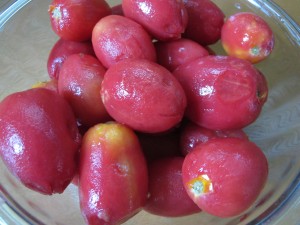 Hey look, these have the skin off! And to do that, we dropped them in a pot of boiling water for about 30 seconds and then into an ice bath to cool down.
The tomatoes get quartered, then seeds and innards removed.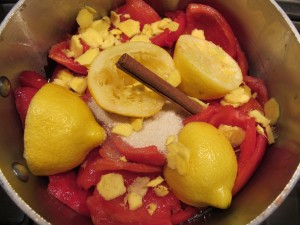 Into a large sauce pan with sugar, fresh ginger, lemons and cinnamon stick.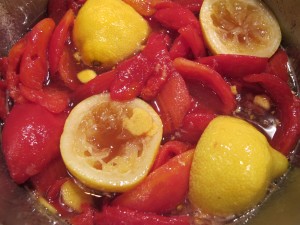 We simmer it all down for a few hours until the tomatoes are translucent and almost falling apart, at which point we remove lemons and cinnamon stick and increase heat to reduce moisture content.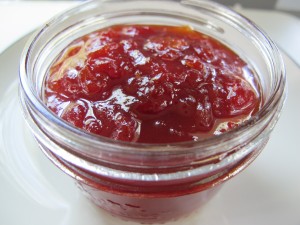 The end result is this gorgeous tomato jam. Let us tell you, this can be put on almost anything sweet or savory. Spread it  on a crostini with goat cheese and caramelized onions or on your Serrano ham sandwich, OR if you're us…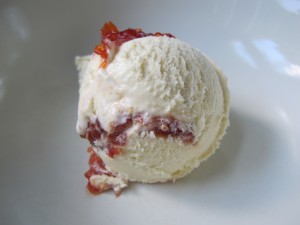 Layer it into your ice cream infused with Fennel Pollen. FrozBroz Tomato Jam Ice Cream!
Want to try some? As we do every week, we'll be giving away two pints of this flavor. Just leave a comment on our facebook page to be entered into the drawing. If you don't have a facebook account, leave a comment right here on the blog. We'll draw two winners on Friday afternoon (8/17/2012) at 4pm and will announce them on our facebook page (or email you if you're comment resides here). Our only conditions are you must be able to pick it up here in Minneapolis, and agree to give us a little feedback that can be shared with everyone else. Good luck!