If you're a vegetable gardener in Minnesota (and even if you're not) you probably know that it's prime season for one of the first harvested vegetables here in the North – Rhubarb! There is a lot of talk right now in the local culinary community about getting more out of this underutilzed vegetable that is so plentiful in many of our gardens this time of year. I think it's safe to say that when someone mentions rhubarb, the first thing that comes to mind is probably a dessert, say maybe rhubarb pie, or rhubarb crisp(check out last years rhubarb crisp flavor HERE). And being that we are ice cream makers, this one is going to be a dessert as well – Lemon Poppy Sour Cream Chevre with Rhubarb Compote.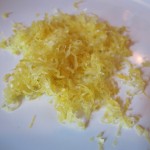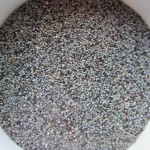 We've mentioned before that we get inspiration for our flavors from a wide range of sources, and sometimes it's simply from seeing a recipe on a television show or a magazine. I ran across a lemon poppy cheesecake recipe a month or so ago that had me thinking about all of these flavors in ice cream.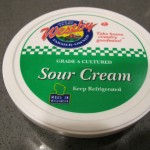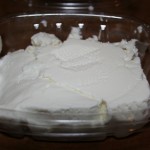 So to get started I rocked out a cheesecake-esk ice cream base using the following four ingredients…lemon zest, poppy seeds, sour cream – from Westby Creamery in Westby, WI and chevre cheese – from Donnay Dairy in Kimball, MN
Together these flavors make a nice rich, creamy flavorful backbone for the rhubarb compote to sit with.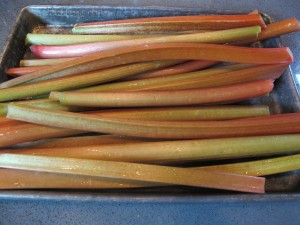 Rhubarb! This is from a rhubarb plant that goes back three generations on my in-laws side of the family. It is essential heirloom rhubarb, and it is beautiful!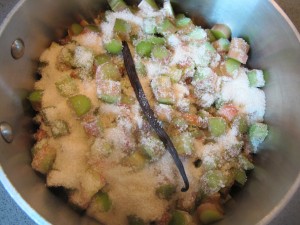 Rhubarb gets choppy chopped and into a pan with sugar, orange zest and a vanilla bean. We simmer it down and evaporate as much liquid as possible.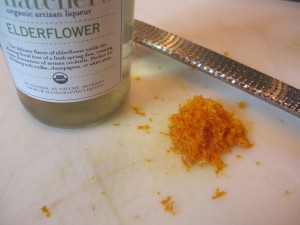 At this point we toss in a little Elderflower liqueur, which deepens the compote's flavor and gives it a nice floral tone.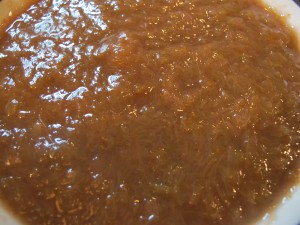 The finished rhubarb compote is thick and jammy with a perfect balance of sweet and tartness. We be Jammin. It gets layered in to the pints during packaging leaving little tart flavor pockets among the rich lemon poppy sour cream chevre ice cream.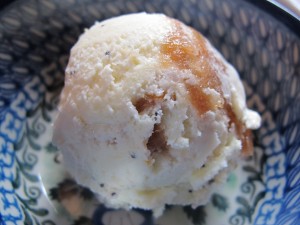 Lemon Poppy Sour Cream Chevre with Rhubarb Compote! More Minnesota Grown vegetables used the FrozBroz way.
We have 2 days left in our fundraising campaign on Indiegogo. If you haven't donated already and can help, we would really appreciate it. You can donate on our site by clicking here: INDIEGOGO/FROZBROZ 
As we do every week, we'll be giving away two pints of this flavor. Just leave a comment on our facebook page to be entered into the drawing. If you don't have a facebook account, leave a comment right here on the blog. We'll draw two winners on Friday afternoon (5/11/2012) at 4pm and will announce them on our facebook page (or email you if you're comment resides here). Our only conditions are you must be able to pick it up here in Minneapolis, and be willing to give us a little feedback that can be shared with everyone else. Good luck!
Would you like to see more of this kind of ice cream or be able to buy it online?  Then please, help us with our fundraiser on indiegogo, we only have 2 DAYS left and need all the help we can get! And in exchange you'll be one of the first to get our ice cream.  Visit our page at www.indiegogo.com/frozbroz