Let the festivities begin.
The seasons constantly drive our creativity in some form or another. In the Spring, Summer, and Fall we get to take advantage of the growing season and the harvest. In the Winter we're driven first by the holidays and then by the pure, unadulterated boredom that follows until Spring. But let's not get ahead of ourselves. The holidays are in front of us and this is one of our first flavors drawn from traditional holiday fare.
Sometimes, its a matter of taking a few staple ingredients and figuring out how to make them just a little more interesting. In this case, we knew we wanted to use cranberries in a flavor leading up to Thanksgiving.
A few years ago I made a cheesecake topped with a Cranberry compote to bring to the Thanksgiving feast and I thought it would be an interesting approach to an ice cream flavor.
Awfully pretty in their fresh state, no?
To start, the compote.  To nip the bitterness of the cranberries' in the proverbial bud, this particular compote leans on lemon juice and lemon zest.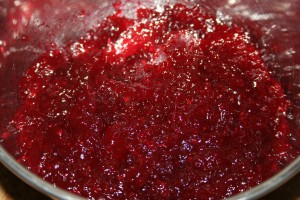 Compote…
In place of a cheesecake crust, we opted for crushed walnuts toasted on the dark side and lightly candied with brown sugar.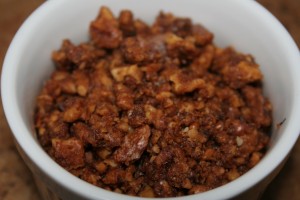 Not a bad snack either…
Finally, to get the whole dimension of the cheesecake, we opted for some Quark cheese from Milton Creamery in Iowa.  It needs to be noted that Milton is the home of one of our favorite cheeses in the land (Prairie Breeze).  Both can be found at our almost daily haunt, the Seward Co-Op in South Minneapolis.
Quark is a fresh, soft cheese similar to cream cheese but has a tangier flavor that stands out better in ice cream.  In this case some was blended into the base of the cream, and some of the quark was frozen ahead of time and crumbled into the base for an extra rich bite here and there.
Its more fun to say "Quark" anyway.
Lastly, the compote was layered in the pint as the ice cream went in.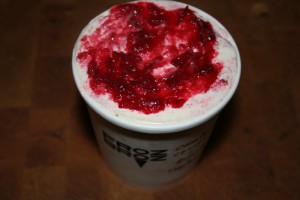 A nice red compliment to the white cream…if we do say so ourselves.
Want to try? As we do every week, we'll be giving away two pints. Just leave a comment on our facebook page to be entered into the drawing. If you don't have a facebook account, leave a comment right here on the blog. We'll draw two winners on Friday afternoon (11/10/2011) at 4pm and will announce them on our facebook page. Our only conditions are you must be able to pick it up here in Minneapolis, and be willing to give us a little feedback that can be shared with everyone else. Good luck!