We talk a lot about our affinity for the Seward Co-op in South Minneapolis, but this week's flavor really epitomizes how much we love this place.  A few weeks ago I was wandering through the store picking up a few random items when I stumbled across a fruit I had never even heard before.  Cherimoya.  I quickly did a little research  and uncovered it was nicknamed the "ice cream fruit" and I knew it was meant to be.  There just aren't too may places around town where you can find a rare prize like this in mid-January.  It's times like this, I just want to move in and sleep on a shelf.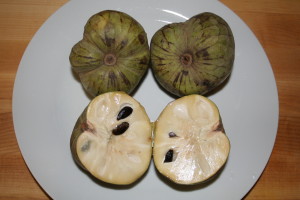 The fruit is so incredible and incredibly hard to describe accurately. As a whole, it reminds me a bit of a mango, but with seeds sort of like a watermelon.  The texture is also similar to mango.  The flavor on the other hand? People say a cross between a banana and pineapple – but it's really it's own thing.
For this flavor – the process is rather simple – though cleaning the fruit is laborious.  You cut the fruit in half and then spend the next 30 minutes or so scooping out the prize and separating the seeds.  We pureed the fruit with milk and added the puree straight into the mix.  Like most fruit – it's got water content which presents a challenge.  However, where we'd usually cook it down to reduce that water content, instead we chose to add a extra fat to the mix to offset it (in this case one exrtra egg).  The flavor of the Cherimoya is so delicate we didn't want to risk losing that in the cooking process.  The mix is simply heat pasteurized on the stove (as usual)and spun into ice cream.
I wish I could explain how incredible the final result is.  It accents cream so well – ever so slightly acidic with a profile that is appealing to everyone, but almost impossible to put your finger on if you don't have previous experience with the fruit.  It is a huge treat that we will now look forward to in the rare event we might get our hands on this fruit again. If you run across it, do yourself a favor and pick some up.  It's absolutely worth it.
Cherimoya Ice Cream 
2 Cups Heavy Cream
1 Cup Milk ((choose your percentage based on how fatty/creamy you'd like your ice cream to be – the higher percentage the creamier the ice cream)
3 Large Eggs
1lb of Cherimoya fruit, scooped and seeded (yields approx 1 cup)
1/4 teaspoon sea salt
Instructions:
1.Prepare fruit: Scoop the Cherimoya flesh from rind and pick out all of the seeds.  Puree with 1/2 cup of milk until smooth.
2. Make ice cream base: Crack eggs into a mixing bowl and whisk fully.  Add sugar and whisk.  Add cream, remaining milk, cherimoya puree, salt and and whisk until cream, sugar and eggs are combined.
4. Cook/pasteurize ice cream base: Place ice cream base in a small pot and heat over medium heat, whisking or stirring continuously until temperature reaches 165-170 degrees. Remove from heat and cool to room temperature (an ice bath will do this in about 15-20 minutes). Strain base through a fine mesh strainer and put base in a clean container, cover, and chill in refrigerator overnight.
5. Churn ice cream base in ice cream machine according to manufacturer's instructions.
*Yields approximately 2.5 pints
If you'd rather not make it, you can be one of two lucky winners of this fabulous, scratch made craft ice cream in our weekly pint giveaway. Enter your name in the comments section here, or on our facebook page under the posted contest. Two winners will be drawn randomly on Friday 1/23/15 at 4pm. Winners must be able to pick up locally in Minneapolis. Prizes must be claimed by email within one week or we will redistribute. 🙂 Good luck!