Our love for cheese just about eclipses our love for ice cream and that's been no secret over the years.   One cheese at the top of my list for use in an ice cream flavor is the incredible aged gouda "Jeff's Select". The cheese is the product of a partnership between Jeff Wideman, master cheesemaker from Maple Leaf Cheese in Wisconsin, and Jeff Jirik, founder of Fairbault Dairy in Minnesota.  What could be more perfect than a cheese that geographically represents our former and home state? The gouda is warm aged for 9 months in the sandstone caves of Fairbault.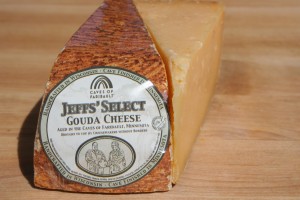 The result is an aged gouda with an incredible nutty flavor to it, without being overly salty.  So good we chose it to be the main flavor component of the ice cream.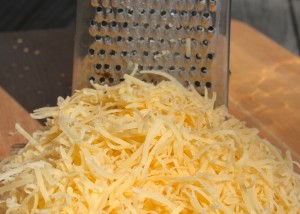 The cheese was finely shredded to allow it to evenly melt into the cream base during the cooking process.  For a harder cheese, it melted wonderfully and incorporated into the cream base without issue.
I wanted to pair the cheese with something, and considered a lot of fruit options.  However Ames Farm honey from Watertown, MN was the hands down winner.
Ames Farm honey is something for Minnesota residents to be proud of, and been a staple in our kitchen for years.   For this flavor we swirled it in as the aged gouda ice cream was packed into pints.
What we ended up with is a magical pair.  The nuttiness of the aged gouda translates perfectly in the ice cream, and its subtle salty undertones are nothing less than harmonious with the ribbons of honey.
Want to try it? You can win one of the only two pints in the world, filled with this fabulous, scratch made craft ice cream in our weekly pint giveaway. Enter your name in the comments section here, or on our facebook page under the posted contest. 2 lucky winners will be drawn randomly on Friday 5/3 at 4pm. Winners must be able to pick up locally and give us feedback. Pints must be claimed by email within one week or we will redistribute. 🙂 Good luck!