Recently, we worked on a beer ice cream for a special event, so naturally the thought was fresh in my mind. I pondered some beer and cheese pairings, but the obvious didn't occur to me right away. I mean, we're full blooded Wisconsin over here; cheddar in our veins, probably even beer, so when I finally got it, the pairing made complete sense. Let's get started with this week's flavor – Beer Cheese
For the beer portion of the ice cream, I wanted to use a local brew, duh. For this flavor I went with Bauhaus Brew Labs, Sky Five! Midwest Coast IPA. It's a full flavored IPA, hoppy for sure, with some nice citrus notes. The beer gets reduced in a large pot over high heat until only a tablespoon or two are left. Our standard organic cane sugar ice cream base is added to the reduction and pasteurized.
I wanted a sharp cheddar for this flavor. Something that makes your lips pucker a little. So being from Wisconsin, I thought I should use a Wisconsin cheese. I decided on Hook's 7 year aged sharp cheddar. Now getting the cheese into the ice cream is this week's real challenge. Thankfully, is a secret to making this fool proof. Have you ever made mac and cheese from scratch and your cheese sauce turns out grainy? That's what I wanted to avoid, and to do so, I am going to use a very small amount of sodium citrate. Sodium citrate is the sodium of citric acid and is more commonly used as a food additive for flavor or as a preservative. Here it is going to keep our cheese sauce from getting a grainy texture. A small amount of beer is brought to a simmer with the sodium citrate added in. The grated sharp cheddar is added, and stirred until the sauce comes together. This cheese sauce is added to the beer ice cream base, and after pasteurization, is cooled and ready to churn.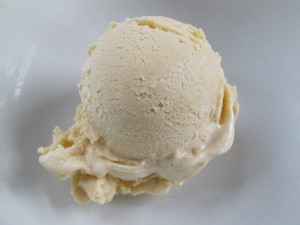 Whether you're from Wisconsin or not, there's no mistaking this ice cream when it hits your lips. Grab a pretzel and dig in!
Beer Cheese Ice Cream
2 12oz. Beers – Bauhaus Midwest Coast IPA
4 oz. Sharp Cheddar Cheese, shredded – Hook's
1/2 teaspoon Sodium Citrate
2 Cups Heavy Cream
1 Cup Whole Milk
3/4 Cup Organic Cane Sugar
2 Large Eggs
1 teaspoon Sea Salt
Instructions:
1. Prepare the cheese: In a sauce pan, add the sodium citrate and cover the bottom of the pan with beer(~1/4 cup). Bring the beer to a simmer. Add grated cheese and whisk until incorporated. Remove from heat and set aside until ice cream base ready.
2. Beer reduction: Pour remaining beer into an 8 quart stock pot and bring to a rolling boil over high heat. Keep your eye on the reduction until foam subsides(may need to turn down heat intermittently to avoid boil over). Reduce beer to approximately 2 Tablespoons(it will be a syrup consistency). Remove from heat.
2. Make ice cream base: Crack eggs into a mixing bowl and whisk fully.  Add sugar and whisk. Add heavy cream, milk, and salt. Whisk until ingredients are combined. Pour into stock pot with beer reduction.
4. Cook/pasteurize ice cream base: Over medium heat, whisk or stir base continuously. Whisk in reserved beer cheese sauce between 110-140 degrees. Keep stirring continuously until temperature reaches 165-170 degrees. Remove from heat and cool to room temperature (an ice bath will do this in about 15-20 minutes). Strain base through a fine mesh strainer and put base in a clean container, cover, and chill in refrigerator overnight.
5. Churn ice cream base in ice cream machine according to manufacturer's instructions.
*Yields approximately 2.5 pints
If you'd rather not make it, you can be one of two lucky winners of this fabulous, scratch made craft ice cream in our weekly pint giveaway. Enter your name in the comments section here, or on our facebook page under the posted contest. Two winners will be drawn randomly on Friday 3/27/15 at 4pm. Winners must be able to pick up locally in Minneapolis. Prizes must be claimed by email within one week or we will redistribute. 🙂 Good luck!