Finally, the time is here. What time? Mushroom time!! What we've been waiting for, I really don't know, because my mind is completely blown. We've contemplated mushrooms in ice cream before…of course we have, but even after all of the crazy shit that we've put into our ice cream, mushrooms still didn't seem like the best idea. And then a few years ago I was chatting with chef Thomas Boemer, of Corner Table, and he suggested using candy cap mushrooms. And then all of this time passed, and for what? Well, we've put out a lot of good flavors since then, but this candy cap thing…this should have happened sooner. And since we're giving thanks next week, we thought we'd make this one a little more festive. You know, with pumpkin. Besides, after just smelling the candy caps, pumpkin is surely going to be a winning combo. Let's get started with this week's flavor – Candy Cap Mushroom with Pumpkin Caramel.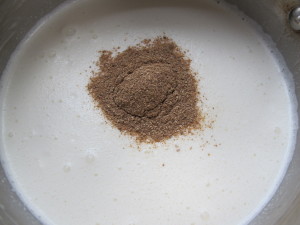 These are dried candy cap mushrooms. Right out of the gate they smell like earthy maple syrup. I'm already freaking out with excitement. For the ice cream, we grind the dried mushrooms and mix it into our sweet cream base. The base is cooked, aka pasteurized, steeped, cooled, and then the mushrooms are strained out with a fine mesh strainer. During the steeping process, the sweet earthy aromas of the candy caps are flying out of the pot. Seriously amazing! The base is given a generous salting and is ready for the churn.
Next, the pumpkin caramel. Like everything we do, it's done from scratch. We start with a whole pie pumpkin, clean it, and roast it. The roasted pumpkin mash is then incorporated with the cream we will use for our caramel. For the caramel, first, we caramelize the sugar. Once our sugar has turned a deep amber color and begins smoking, we add our pumpkin cream. Our pumpkin caramel is finished with sea salt, is cooled, and is ready to be layered into our pints.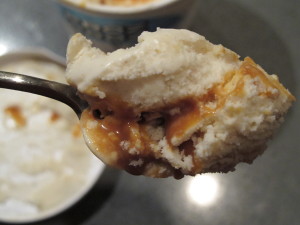 Candy Cap Mushroom with Pumpkin Caramel. Finally, the time is here. And, to one of many things we'll be giving thanks to next week, thanks chef Thomas for the hot tip.
You can be one of two lucky winners of this fabulous, scratch made craft ice cream in our weekly pint giveaway. Enter your name in the comments section here, or on our facebook page under the posted contest. Two winners will be drawn randomly on Friday 11/21/14 at 4pm. Winners must be able to pick up locally. Prizes must be claimed by email within one week or we will redistribute. 🙂 Good luck!