We've been on a tropical kick since January, and with the winter clinging to life with its cold dead hands, we've got no reason to stop now.   The basis of this flavor began with a beautiful ripe Kent mango that called my name at on a recent grocery run.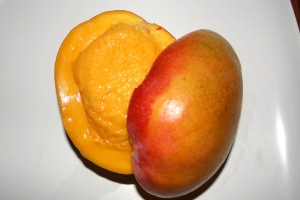 I nabbed it up knowing I wanted to use it as an element for a flavor, hoping it would conjure a few ideas while it ripened just a bit further on the kitchen shelf.
Conjure it did, and as soon as I saw this little bottle of dark rum in the cabinet I knew it was going to be combined with the mango to make a syrup for the ice cream.
The only question remaining: what kind of ice cream this was going to swirl into?  My answer came when I noticed these two slightly overripe bananas hanging in the fruit basket.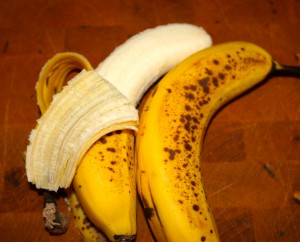 We used bananas a few weeks back for the first time, though we've been discussing them for well over a year. They make an amazing companion for rum and mangoes.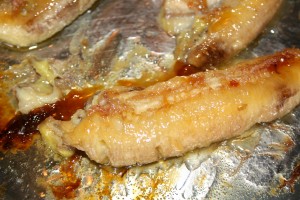 These two were roasted in a pan with some butter to caramelize the sugars and intensify the banana flavor.
The bananas were pureed with cream and steeped in the organic cane sugar ice cream base to infuse the roasty banana flavor through and through.
Last but not least, this beautiful rum mango syrup is swirled into the pint as the ice cream is packed in.

What we end up with is a silky smooth roasted banana ice cream, swirled with bright yellow ribbons of rum mango syrup.
Want to try it? You can win one of the only two pints in the world, filled with this fabulous, scratch made craft ice cream in our weekly pint giveaway. Enter your name in the comments section here, or on our facebook page under the posted contest. 2 lucky winners will be drawn randomly on Friday 4/5 at 4pm. Winners must be able to pick up locally and give us feedback. Pints must be claimed by email within one week or we will redistribute. 🙂 Good luck!