Ok, so for evers ago, we talked about making a beer ice cream, and actually, I made a single attempt the week before starting this blog two years ago. At the time, we would have been one of the first to produce such a product, but in the end, it didn't work out. The flavors weren't there, the texture was icy, and sadly, our desire to continue the fight was diluted by hundreds of other flavor ideas. This week, the fight is on, and this time, we gonna win this one. Also, we're going to add bacon. Let's get started with this weeks flavor: Brown Ale with Bacon Marmalade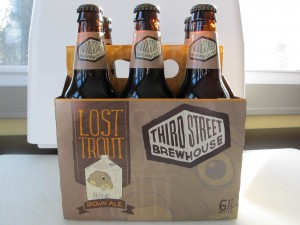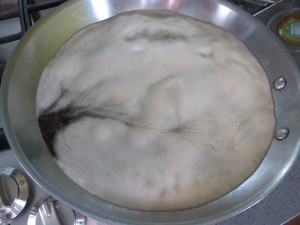 Raise your hand if you've had this beer? Now, if your hand is down, go get one. This is the Lost Trout Brown Ale from Third Street Brewhouse out of Cold Spring, MN…by far the best brown ale that I have had in a long time. Brown Ales tend to be sweet and syrupy for me, but this one is crisp, clean with a slightly bitter caramel finish. For the ice cream, the brown ale is reduced into a syrup and mixed into our organic cane sugar ice cream base. This ice cream alone is versatile for a  number of pairings, but this week, I went back through my notes and found a recipe that was screaming for this one – Bacon Maramalade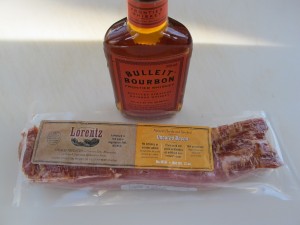 This bacon marmalade is rich, sweet and acidic. It's main components: Lorentz uncured bacon from Canon Falls, MN, bourbon, fennel and coffee.
The bacon in chopped and rendered until crisp. The fennel is diced and simmered in renderings until translucent. The bacon fat is drained, and the bacon, fennel bourbon and coffee go into a sauce pan along with brown sugar, maple syrup and cider vinegar. The mix is simmered down for about an hour until the liquid has reduced to a very light syrupy consistency.
The mix goes into the food processor and is pulsed until a marmalade-esk texture is achieved. Talkin versatile? This bacon marmalade can be spread on toast, your burger, pizza, on top of your 85% cocoa chocolate bar. Seriously. No, seriously. But we decided to layer it into our brown ale ice cream.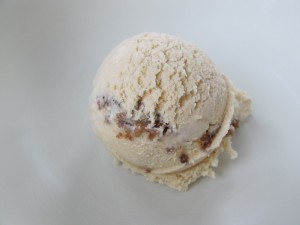 Boom! Brown ale ice cream with bacon marmalade. It's rich, creamy and tangy. The flavors and textures are all there, and now we have conquered our first beer cream. Stay tuned, this could be the start of our next obsession.
You can win one of the only two pints in the world, filled with this fabulous, scratch made craft ice cream in our weekly pint giveaway. Enter your name in the comments section here, or on our facebook page under the posted contest. 2 lucky winners will be drawn randomly on Friday 3/1 at 4pm. Winners must be able to pick up locally and give us feedback. Pints must be claimed by email within one week or we will redistribute. 🙂 Good luck!