It's not very often that we make a flavor with only a one ingredient add-in to our ice cream base. For one, it's just not challenging enough, and two, it's kinda boooooring. The reality is, flavors on their own like chocolate, strawberry and vanilla aren't that boring. According to the International Ice Cream Association, these three flavors fall within the top four most popular ice cream flavors in the world. Sometimes our flavor ideas get too convoluted, and we feel the need to go back to where we started. And that's just what I did this week. I went back to the root of my idea: Azuki Red Bean Ice Cream; because in the end, it's another great flavor on it's own, just like chocolate, strawberry and vanilla.
Want to talk about convoluted? This is one of those flavors I've been mulling around in my brain for about two months now. I write it on paper. Look at it. Dream about it. Talk to myself about it. It has consumed me at times, so I put it aside and come back when it feels right.
It's right now. All by itself. Here we go…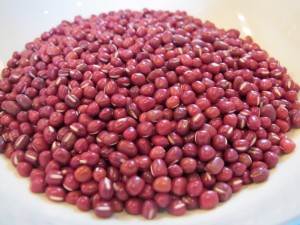 Azuki Beans! Purchased these at Minneapolis's finest Asian grocery: United Noodles .
They get soaked for 24 hours, rinsed and into a pot of cold water. We bring to a boil and simmered until fully cooked and falling apart.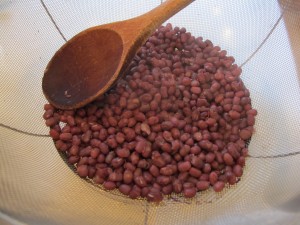 Fully Cooked Azuki beans get strained and then go back into a sauce pan with sugar and a pinch of salt. This mixture gets cooked down into a sweet paste.
"An" – Sweet bean paste that is widely used in East Asian desserts. It can be eaten as is, stuffed into pastries and about a million other preparations; or in our case, stirred into our ice cream base. It's texture is coarse, and has a unique fruity/nutty/earthy flavor. When mixed into the base the flavor is reminiscent of a strawberry ice cream.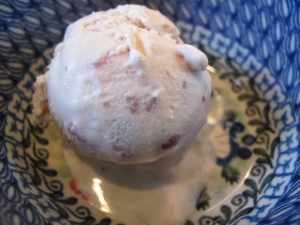 Another ice cream flavor that's great on it's own… FrozBroz Azuki Red Bean Ice Cream
As we do every week, we'll be giving away two pints of this flavor. Just leave a comment on our facebook page to be entered into the drawing. If you don't have a facebook account, leave a comment right here on the blog. We'll draw two winners on Friday afternoon (4/13/2012) at 4pm and will announce them on our facebook page (or email you if you're comment resides here). Our only conditions are you must be able to pick it up here in Minneapolis, and be willing to give us a little feedback that can be shared with everyone else. Good luck! Also – again, please don't forget about our Indiegogo fundraising – we've at the halfway pointdays and need all the help we can get! http://www.indiegogo.com/frozbroz?a=446076