It's fall. Its apple season.  And I'm stuck in the Apple rut. Really not a bad rut to be stuck in if you ask me. There are so many apple varieties to play around with, there are are tons of flavor possibilities depending on the variety you choose.  You can get tart, sweet, crunchy or tender, or a mixed bag.  Recently we've used Zestar apples, and the latest pickup is an old standby in the apple world- Cortland.   I chose to use them this week for a play on my favorite caramel apple – the one coated in crushed peanuts.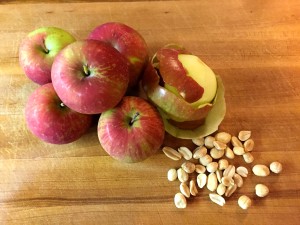 This flavor doubles up on both the caramel and the apple components.  For the ice cream, we made a caramel base, by cooking a simple caramel with sugar and using that as our sweetener.  Makes for a great, caramel flavored cream.  In addition, some of the caramel is reserved to swirl into the ice cream at the end.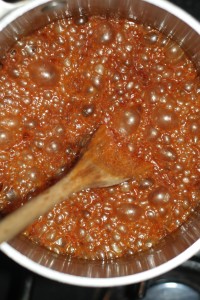 For the apples, we used a combination of roasted apples, as well as a layer of apple jam as a swirl in with the extra caramel..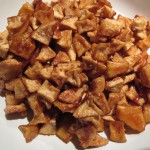 At the end, we added crushed salted peanuts, for a good crunch.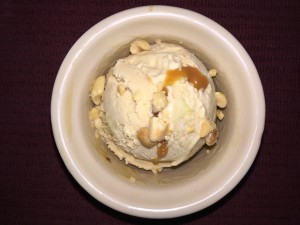 The scoop is a rich caramel ice cream filled with tart roasted apples decorated with an apple jam and caramel swirl and  finished with crunchy crushed peanuts.
You can be one of two lucky winners of this fabulous, scratch made craft ice cream in our weekly pint giveaway. Enter your name in the comments section here, or on our facebook page under the posted contest. Two winners will be drawn randomly on Friday 10/3/14 at 4pm. Winners must be able to pick up locally. Prizes must be claimed by email within one week or we will redistribute. 🙂 Good luck!