At some point while I was in high school I learned of the apple pie and sharp cheddar combination.  I was at a family dinner at my grandparents house when one of my uncles sat down at the table with a piping hot piece of my Grandmother's freshly made apple pie – with a big slice of cheese slowly melting over the top.
Being used to only eating Apple pie with ice cream, this completely blew my mind.  Apple pie with…cheese?  I had to try it.  Once I did – I was hooked.  It was a flavor combination that was relatively foreign to me at the time, but as I grew older and realized how well fruit and cheese went together, it all made sense.
In this batch, we used some gorgeous Wolf River heirloom apples from our pal Slim LeDuc.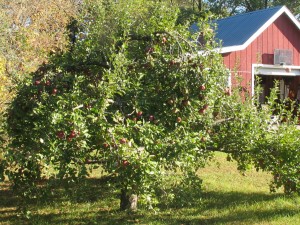 I don't know what it is about gnarly looking fruit trees, but I like to imagine that the flavor of the fruit is so great it overwhelms the plant.
These babies were large and nice for slicing up and baking, but had thin skin and made for great eating on their own as well.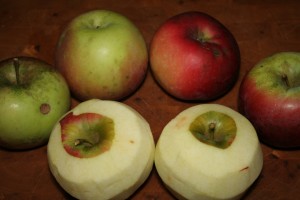 It was my first experience with Wolf River apples, and their sweet flavor lived up to their large size.
The apples were diced, tossed in cinnamon and sugar, and roasted in the oven to concentrate their flavor and reduce their water content.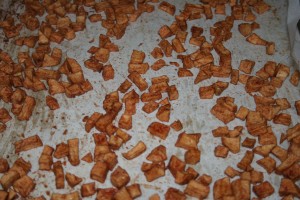 These were very snack-able.
Since we've obviously already strayed from the traditional apple pie route, i chose to make more of a "crisp"  topping to throw in the ice cream with the apples – except this one is heavily concentrated with crushed, roasted pecans instead of the more commonly used oats.
And there's much larger chunks than in traditional apple crips, to ensure there are some substantial bites in the ice cream.
Last but not least, rougly grated and chopped Sharp Wisconsin Cheddar cheese is added.  The cheddar provides a quick tangy back drop to the ice cream, and pairs incredibly well with both the apples and the pecan crisp.  Our Wisconsin blood has us constantly striving to find more ways to get dairy into your dairy.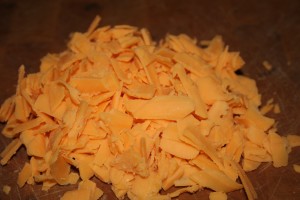 Cheesy.
The end result is a fantastic ice cream, filled with roasted heirloom apples, crisp pecan crust, and good old Wisconsin cheese.  Hard to beat.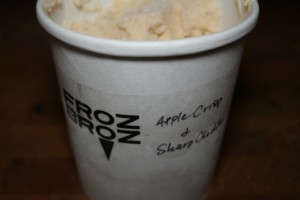 You can win one of two available pints this week, just  leave a comment on our facebook page to be entered into the drawing. If you don't have a facebook account, leave a comment right here on the blog. We'll draw two winners on Friday afternoon (10/7/2011) at 4pm and will announce them on our facebook page. Our only condition is you must be able to pick it up here in Minneapolis. Good luck!