This isn't the vanilla ice cream filled with chocolate covered almonds you might be familiar with.   There are almonds in it, sure, but that's where the resemblance ends.  I've had cheese on the brain (when don't I?) and have been kicking around a swiss cheese flavored ice cream for quite awhile.  As a kid, swiss cheese may as well have been poison ( to my wife it still is).  It's one of those foods that is divisive – most either love it or hate it.  Well, my tastes have shifted in adulthood and I've found myself on the "love it" side of the fence.  Funny how many flavors hearken back to childhood memories good and bad.  To round out the swiss cheese ice cream, I chose to add some sliced raw almonds to the mix for a little crunch.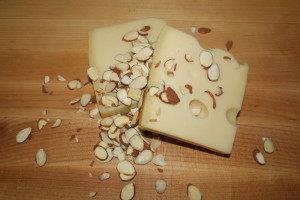 For the swiss cheese selection, we chose Emmentaler.  I wanted a cheese that was on the dry side, to keep the moisture content down and to keep it from getting stringy in the melting process.  I would have loved to have used something local but local aged swiss is harder to find than I thought.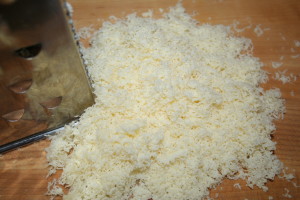 The process of making the ice cream base is relatively simple.  The cheese is grated as fine as possible to make the melting and incorporating process go smoothly.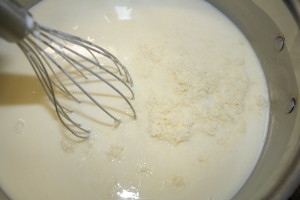 The simple sweet cream base is mixed up and the grated swiss cheese is added gradually as the base cooks on the stove top and whisked until it is completely smooth.  The base is chilled, and the sliced almonds are added in at the end of the churn.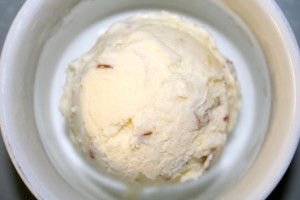 The end result was a very nice swiss cheese ice cream, speckled with a crunch from the sliced raw almond.  The pungent swiss cheese is  mellowed out by the cream and sugar but it's bitter edge remains ever so slightly.  Fantastico!
Swiss Almond Ice Cream:
Ingredients:
2 Cups of Heavy Cream
1 Cup of Milk (choose your percentage based on how fatty/creamy you'd like your ice cream to be – the higher percentage the creamier the ice cream)
2 large eggs
3/4 Cup sugar
1 Cup finely grated dry swiss cheese (Emmentaler or any aged swiss)
1 tsp salt
1/2 Cup Sliced Raw Almonds
Instructions:
1. Crack eggs into a mixing bowl and whisk fully.  Add sugar and whisk more until cream, sugar and eggs are combined.  Add cream, milk, and whisk again until all are fully incorporated.
2. Place ice cream base in a pot and heat over medium heat, whisking or stirring continuously, gradually adding the grated swiss cheese and whisking more until cheese is completely melted into base.  Heat until temperature reaches 165 degrees. Remove from heat and cool to room temperature (an ice bath will do this in about 15-20 minutes) and then place in a container, cover and chill in refrigerator overnight.
3.  Churn ice cream base in ice cream machine according to manufacturer's instructions.  Add sliced almonds in last 5 muntes of the churn.  You can eat immediately as soft serve, but we would recommend freezing in a tightly covered container for at least 4 hours, preferably overnight if you can wait.  The flavors will continue to develop and change over the next few days.  Enjoy!
*Yields approximately 2.5 pints
If you'd rather not make it, you can be one of two lucky winners of this fabulous, scratch made craft ice cream in our weekly pint giveaway. Enter your name in the comments section here, or on our facebook page under the posted contest. Two winners will be drawn randomly on Friday 2/6/15 at 4pm. Winners must be able to pick up locally in Minneapolis. Prizes must be claimed by email within one week or we will redistribute. 🙂 Good luck!