Our second installment of flavors inspired by Minnesota Peach, the  farm of fruit genius Dave Griffin, located outside of Cold Spring, MN .  Watch this video and get a great idea of what we're talking about here: http://vimeo.com/27403794 .
We had a chance to visit a few weeks ago, and Dave gave us the full tour of his farm where he grows plums, apricots, cherries, hazelnuts, black walnuts, a variety of veggies and probably most importantly — where is he is working hard at breeding a hearty peach that can survive the harsh Minnesota winter.  Last but not least he has, by his estimation, somewhere around 50 varieties of grapes.  We tasted so many grapes our heads were spinning, and it was hard to comprehend all of the flavor.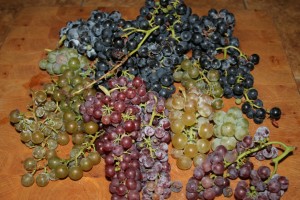 Dave was generous enough to send us home with a bounty to work with, and we went right to it:
It was intimidating to make sure our experimenting didn't result in a waste. When you witness the passion and heart that a farmer puts into bringing food to your table, you really realize just how valuable that food is.
back to the grapes..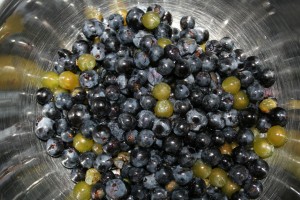 The beginning of our flavor brainstorming was to use a blend of varieties- Baltics, Concord, Muscat (and a few others I unfortunately can't remember) to make a rich syrup which would be somehow used in a flavor.
On the way home from the farm I stopped to find some ingredients to pair with the grape syrup and ran across this beautiful chevre from Donnay farms.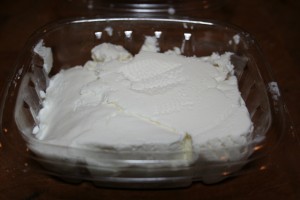 No, you do not notice a knife swipe in the top of this.  Purely your imagination.
It was at this point where I got a little worried I was going down the wrong path with the chevre – so I decided to make the grape syrup and take some time to think.
Here is the gorgeous syrup produced from the Minnesota Peach grapes, with a little black pepper to add some depth.
Finally the thinking paid off and I turned a HolyLand pita in to a cracker to finish up the combination and bridge the gap between the grape syrup and the chevre.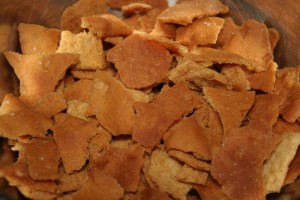 Crunchy. Salty.
The final outcome: Black Pepper Grape Syrup swirled in with Pita Crackers and Chevre
You can win one of two available pints this week — leave a comment on our facebook page  to be entered into the drawing. If you don't have a facebook account, make your comment right here on the blog. We'll draw two winners on Friday afternoon (9/23/2011) at 4pm and will announce them on our facebook page. Our only condition is you must be able to pick it up. Good luck!