This was a flavor I toiled over for months.  It wasn't supposed to be a mint chocolate chip ice cream.  It was supposed to be a watermelon ice cream.  I spent most of my time with this concept, trying to figure out and decide on how I wanted to do a watermelon ice cream.  Then, when it finally came time to execute, I cut open the watermelon only to find out I had purchased the yellow variety.  Now, that isn't necessarily a deal breaker – yellow watermelon is incredible.  But for a first watermelon excursion, it just seemed like it had to be red – that's what everyone thinks of at first blush.  So it was time to improvise.  I had planned on using mint in my watermelon flavor, and after some deliberation with my frozen brother I ended up in left field.  No surprise.  My watermelon ice cream turned into our twist on mint chocolate chip.  Not only did it work splendidly, but as fate would have it,  I seemed to have ended up where I should have.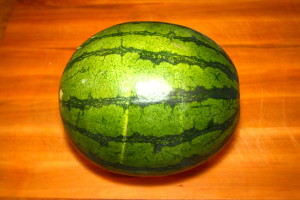 First the watermelon syrup.  First they are taken apart and seeded.  Then pureed and reduced over heat with sugar into a beautiful golden syrup.
The mint is pureed with some cream and then mixed into our standard ice cream base.
We found these fantastic fair trade chocolate chips at our favorite co-op and threw them in at the end of the churn – they add a good hearty crunch and chocolate punch.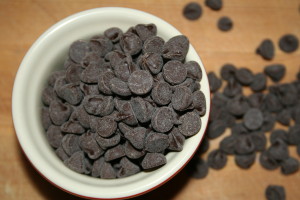 The watermelon syrup is swirled in as the ice cream is packed into the pints, and the end result is pretty awesome.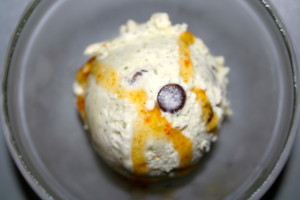 Want to try it? You can win one of the only two pints in the world, filled with this fabulous, scratch made craft ice cream in our weekly pint giveaway. Enter your name in the comments section here, or on our facebook page under the posted contest. 2 lucky winners will be drawn randomly on Friday 9/20/13 at 4pm. Winners must be able to pick up locally and give us feedback. Pints must be claimed by email within one week or we will redistribute. 🙂 Good luck!