Love is in the air, and with Valentines Day just a few days away, we wanted to hit y'all with something decadent, and spice it up a little too, for your hot lovin. This one should be pretty easy to wrap your heads around. It has all those things that make you see hearts and stars when you eat it. Let's get started with this week's flavor – Spicy Cinnamon Chocolate Caramel Pecan.
For the ice cream base, we're using three components: Valrhona cocoa powder, Penzy's cinnamon(China), and Penzy's cayenne pepper. Like your love, flavor intensity is high here. The three components are whisked into our sweet cream base made with organic cane sugar. The base is pasteurized, cooled, and is ready for the churn.
Next, the caramel. Salty caramel. For your loving taste buds. First, sugar is brought to a boil until it's caramelized and becomes a beautiful amber color, at which point we add our cream. The caramel is then finished with sea salt. It's simple, and friggin' delicious. The caramel gets layered into the ice cream before packaging.
We finish off this lovers' delight with some toasted salty pecans. Seriously though, simplicity can sometimes be bliss. The pecans take a little ride into the oven, toast at a low temperature, and are finished with salt when they come out. They get tossed into the ice cream whole at the end of the churn.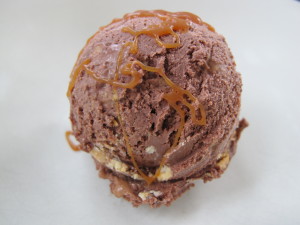 Lovers unite! Decadent spicy chocolate cinnamon ice cream layered with salted caramel and pecans. Happy Valentines Day!
Spicy Cinnamon Chocolate Caramel Pecan:
Ingredients:
Ice Cream:
2 Cups of Heavy Cream
1 Cup of Milk (choose your percentage based on how fatty/creamy you'd like your ice cream to be – the higher percentage the creamier the ice cream)
2 large eggs
3/4 Cup sugar
1/3 cup Cocoa Powder
1 teaspoon cinnamon
1 teaspoon salt
1/2 teaspoon cayenne pepper
Caramel:
1 Cup sugar
1 Tablespoon water
1 Cup heavy cream
1/2 teaspoon sea salt
Pecans:
3/4 Cup Pecans, halved
1 teaspoon Butter, melted
1/4 teaspoon sea salt
Instructions:
1. Prepare the base: Crack eggs into a mixing bowl and whisk fully.  Add sugar and whisk more until cream, sugar and eggs are combined.  Add cream, milk, cocoa powder, cinnamon, cayenne and salt, and whisk again until all are fully incorporated. The cocoa powder may not fully incorporate until the base is cooked.
2. Place ice cream base in a pot and heat over medium heat, whisking or stirring continuously. Heat until temperature reaches 165 degrees. Remove from heat and cool to room temperature (an ice bath will do this in about 15-20 minutes) and then place in a container, cover and chill in refrigerator overnight.
3. Prepare the caramel: In a heavy bottomed pan, with sides at least 4 inches high, add sugar and water and bring to boil. Do NOT STIR at this point or the caramel will become grainy.  As soon as the sugar starts to turn an amber color, remove from heat immediately. Add heavy cream and whisk vigorously until incorporated. Stir in sea salt and cool.
4. Prepare the pecans: Preheat the oven to 325 degrees. Place pecans on a sheet pan and bake for 5 minutes. Toss with melted butter and salt. Bake for another 10 minutes. Cool pecans.
5. Churn ice cream base in ice cream machine according to manufacturer's instructions. Add pecans in last 5 muntes of the churn. Empty ice cream into an air tight container and pour some of the caramel over the top. Lightly stir the caramel into the ice cream. You can eat immediately as soft serve, but we would recommend freezing in a tightly covered container for at least 4 hours, preferably overnight if you can wait.  The flavors will continue to develop and change over the next few days.  Enjoy!
*Yields approximately 2.5 pints
If you'd rather not make it, you can be one of two lucky winners of this fabulous, scratch made craft ice cream in our weekly pint giveaway. Enter your name in the comments section here, or on our facebook page under the posted contest. Two winners will be drawn randomly on Friday 2/13/15 at 4pm. Winners must be able to pick up locally in Minneapolis. Prizes must be claimed by email within one week or we will redistribute. 🙂 Good luck!