With the Minnesota harvest rolling in we've been trying to give our CSI(Community Supported Ice Cream) members a good mix of ice creams that are representative of our locally grown fruits and vegetables. Last month, one of our offerings was a sour cream beet ice cream with chocolate syrup, of which we ended up with an excess of beet juice. Instead of throwing out that juice, we decided to make a new flavor. I decided to use one of my favorite fall salad combinations – beets and goat cheese, which brings us to this week's flavor – Black Pepper Chevre with Beet Syrup.
I wanted give the ice cream a little extra kick and add another dimension, and instead of steeping a fresh pepper in the ice cream, as we often do, I decided to use freshly ground black pepper. The black pepper is added into our ice cream base along with some chevre from Stickney Hills Goat Farm in Kimball, MN. This particular cheese worked well in the ice cream, as it is fairly pungent for a spreadable goat cheese. I didn't want the cream to dilute the cheese's goatiness, if you catch what I'm saying. The black pepper chevre ice cream base is cooked and cooled before it's ready for the churn. Not before we make our syrup though…
For the beet ice cream that we made for our CSI members, we used fresh beets. Fresh beets have an earthiness about them that trumps any roasted beet, and we wanted all of that. We peeled, pureed and then strained the beets through a fine mesh strainer. After the strain, we have two things left: beet juice and beet pulp. Both were used in the sour cream beet with chocolate syrup, but this week, I'm only using the juice. The juice is reduced down in a sauce pan with sugar until a syrup consistency is achieved. Magic! Not really, but it's really friggin good guys. This beet syrup is layered into the black pepper chevre ice cream before packaging.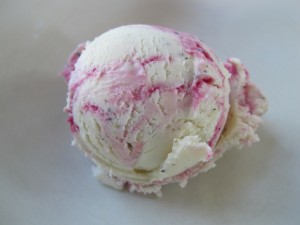 Bang! Black Pepper Chevre with Beet Syrup. More salad flavors made into ice cream…maybe that should be the FrozBroz tagline ;).
You can be one of two lucky winners of this fabulous, scratch made craft ice cream in our weekly pint giveaway. Enter your name in the comments section here, or on our facebook page under the posted contest. Two winners will be drawn randomly on Friday 9/12/14 at 4pm. Winners must be able to pick up locally. Prizes must be claimed by email within one week or we will redistribute. 🙂 Good luck!