Ice cream in foreign countries – especially in Asia and South America – is, and has been far more adventurous than what we are used to eating here in the States. Black Sesame ice cream is essentially the Vanilla ice cream to Asian culture and deservedly so – the depth of flavor is intense, savory and sweet all at the same time. It also pairs fantastically with citrus, and provided us the opportunity to utilize Yuzu for the first time.   It went something like this..
Yuzu is a citrus fruit native to East Asia that resembles across between grapefruit and orange – wonderfully acidic and zippy. Its nearly impossible to find fresh here, so we used Yuzu juice procured from our favorite, United Noodle. We combined some of the Yuzu juice with some local Ames farm honey to swirl into the mix.
The black sesame ice cream base is a relatively straighforward process.  The sesame seeds are toasted in a pan and then ground fine.  The ground sesame goes straight into our sweet cream and organic cane sugar base and steeped to bring out the flavor.
Once the steeping process is complete – the cream is churned and the Yuzu honey is swirled in at the end.  And this is the point when it's popularity abroad all makes sense.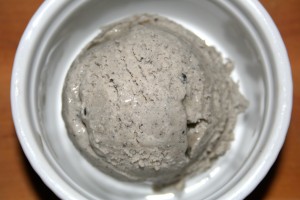 The black sesame ice cream hearkens slightly of peanut butter but whisks you off quickly to a land all its own.  The pockets of Yuzu honey offer a bright, sweet yet slightly sour contrast among it all.
Like to try some? You can be one of two lucky winners of this fantastic, scratch made craft ice cream in our weekly pint giveaway. Enter your name in the comments section here, or on our facebook page under the posted contest. Winners will be drawn randomly on Friday 4/4/14 at 4pm. Winners must be able to pick up locally. Prizes must be claimed by email within one week or we will redistribute. 🙂 Good luck!