Ahhhhh, finally, Spring is in the air! The city is finally coming alive again. This brutal winter is hopefully behind us and warm sunny days are ahead.  For us broz, that means some good quality grill time, which works out perfect, because a good friend of ours just recently made a flavor request. Well, more like a comment, but we turned it into a request. So Kerry, after seeing your "no bone marrow flavor YET" comment, we just to make this happen…for you, for us, for ERRYBODY! Let's get into this week's flavor Bone Marrow and Red Wine…
These are 100% grass-fed marrow bones from Grass Run Farms in Dorchester, IA. If you've never had marrow before, go get some bones, roast them in your oven for about 20-25 minutes at 450 degrees, dig out the marrow, and spread it on some good toasted bread…you will be a happy person. Because this particular day is inspiring me to grill, I am going to grill the marrow bones for the ice cream. We wrap them up in a little foil packet and grill them indirect for 20 minutes or so. The marrow is then pushed out of the bone and into a pan that goes back on the grill to render out completely. The rendered marrow is strained through a fine mesh strainer and then whisked into our organic cane sugar ice cream base. The base gets salted, cooled, and is ready to churn.
For the red wine, we make a syrupy reduction using a red wine blend – Coppola Rosso. We reduce the wine to condense flavor, and then add sugar to create a nice glossy syrup. The syrup is swirled into the ice cream at the end of the churn.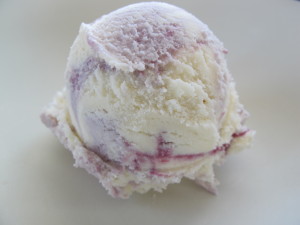 Bone Marrow and Red Wine! The marrow ice cream is rich with a flavor similar to your grandma's shortbread cookies made with lard. The brightness of the red wine reduction cuts through the richness of the marrow ice cream and balances out like a perfect wine and cheese pairing.
Like to try some? You can be one of two lucky winners of this fantastic, scratch made craft ice cream in our weekly pint giveaway. Enter your name in the comments section here, or on our facebook page under the posted contest. Winners will be drawn randomly on Friday 4/11/14 at 4pm. Winners must be able to pick up locally. Prizes must be claimed by email within one week or we will redistribute. 🙂 Good luck!