As a kid, I would occasionally eat heavily buttered toast with honey drizzled over the top. It was usually a breakfast thingy, but I know I enjoyed a few buttered honey toasts for an after school snack session. It was one of those things that always tasted better with white bread too. It's been awhile since I've had this toast, but my food nostalgia always beckons the question, would it make a worthy ice cream flavor? The answer is usually yes, and in this case…YES! This week's flavor – Buttered Toast and Honey
I remember having a rather large portion of butter on this toast, something more like a light frosting that melted away into the bread. For the ice cream, I wanted to use brown butter to highlight the flavor of the butter, but also to accentuate it's nuttiness that resembles the flavor of the toasted bread. The brown butter gets emulsified into our organic cane sugar ice cream base.
For the toasts, I'm using french bread: sliced, toasted, and then scraped, with the back of a knife, into the ice cream base. The toast crumbs steep in the base during pasteurization, and are then strained out with a fine mesh strainer. The base is cooled and is ready to churn.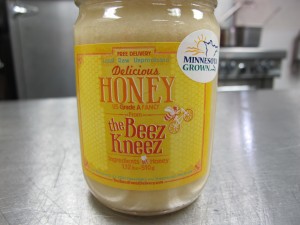 Lastly, honey to round out the mission. Minnesota honey! The Beez Kneez honey! Do we need to say more? If you've never heard of The Beez Kneez, just click here to learn more about their wonderful honey. It's swirled straight into the ice cream after the churn.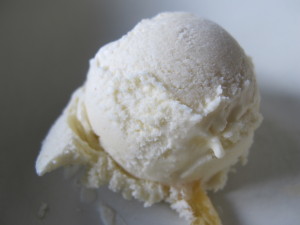 Buttered Toast and Honey ice cream…just like being a kid again.
Buttered Toast and Honey
2 cups Heavy Cream
1 cup Milk
3/4 cup cane sugar
2 Eggs
2-3 slices French Bread
2 Tablespoons Butter
1 teaspoon Sea salt
1/4 cup Honey
Instructions:
1. Prepare the brown butter: Place the butter in a saute pan and bring to a boil over high heat. Continue over high heat until butter begins to brown. Remove from heat and reserve brown butter. If browning gets away from you and starts to look too dark, pour into a glass bowl immediately to stop the browning process.
2. Make ice cream base: Crack eggs into a mixing bowl and whisk fully.  Add cane sugar and whisk.  Add heavy cream, milk and sea salt. Whisk until ingredients are combined.
4. Cook/pasteurize ice cream base: Over medium heat, whisk or stir base continuously until temperature reaches 110-120 degrees. Remove from heat. Take one cup of the warmed ice cream base out and place in blender. With blender running, slowly add the brown butter until emulsified. Pour emulsified mixture back into sauce pan with ice cream base.
Toast French bread – medium to dark toasting. Using a butter knife, scrape the toast over the ice cream base, so that all of the toasted crumbs fall off into base. Resume whisking or stirring base continuously over medium heat until temperature reaches 165-170 degrees. Remove from heat, and allow to steep for 10 minutes. Strain base through a fine mesh strainer. Cool ice cream base to room temperature (an ice bath will do this in about 15-20 minutes). Cover base, and chill in refrigerator overnight.
5. Churn ice cream base in ice cream machine according to manufacturer's instructions. Swirl in honey during packaging. Store ice cream in air tight container in freezer until chow time.
*Yields approximately 2.5 pints
If you'd rather not make it, you can be one of two lucky winners of this fabulous, scratch made craft ice cream in our weekly pint giveaway. Enter your name in the comments section here, or on our facebook page under the posted contest. Two winners will be drawn randomly on Friday 10/23/15 at 4pm. Winners must be able to pick up locally in Minneapolis. Prizes must be claimed by email within one week or we will redistribute. 🙂 Good luck!