Want to learn something new today? Ok. Have you ever heard of Borage? Maybe you have, but I hadn't, until my friend Christine dropped us a line and asked if we wanted to use it in our ice cream. Borage is a freely seeding annual plant that is said to taste like cucumber. It is considered an herb, but it is usually grown as a flowering plant in vegetable gardens, as it attracts pollinating bees. Now that you learned something new, allow me to show you something else new…us making borage ice cream with white wine. It's this week's flavor: Borage Buerre Blanc. Let's do this!
This is a picture of the borage plant, similar to the one growing in Christine's garden. Both the flowers and leaves are edible, but this week, we're using just the leaves. The borage leaves are meant to be used young, because as they mature, they get a prickly fuzz. This plant was mature, but that's ok, because we're steeping the leaves for flavor and straining out after heating. I wanted to try to infuse as much of the borage leaves' cucumber flavor as possible into our organic cane sugar base.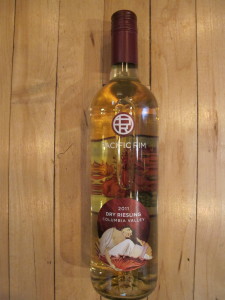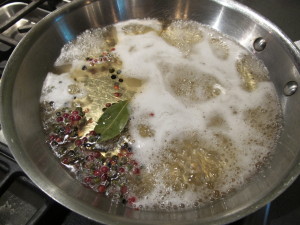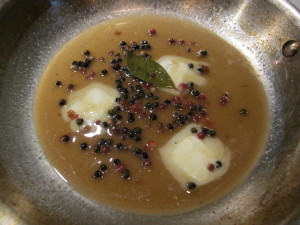 To pair with the cucumber flavor, I was contemplating acidic flavors , like lemon, lime, vinegar, etc., but in the end decide to pair it with a French sauce called a Buerre Blanc, AKA white butter. A Buerre Blanc can be made with either vinegar or wine, and I opted for the wine approach. I want a light, dry white wine, that would go nicely with a cucumber salad, so I decided to go with this Pacific Rim Dry Reisling. Along with the wine, peppercorns and a bay leaf get reduced down until almost dry in the pan. A small amount of cream is added, and then butter to finish it off. The sauce is strained through fine mesh and ready to use. Buerre Blancs are rich and acidic and generally pair well with a light delicate fish. Today, we're going to add it into our borage infused ice cream to give it a little tang.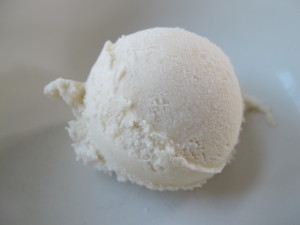 Borage Buerre Blanc ice cream! It has a subtle earthy cumcumber flavor that is accompanied by a light acidic touch provided by the Buerre Blanc. Something new, but just another day for the FrozBroz.
Want to try it? You can win one of the only two pints in the world, filled with this fabulous, scratch made craft ice cream in our weekly pint giveaway. Enter your name in the comments section here, or on our facebook page under the posted contest. 2 lucky winners will be drawn randomly on Friday 9/13/13 at 4pm. Winners must be able to pick up locally and give us feedback. Pints must be claimed by email within one week or we will redistribute. 🙂 Good luck!