Its been awhile since we've done a collaboration, so we're excited to be back at it with none other than Twin Cities fantastic Stephanie Meyer.  When she isn't running her spectacular blog Fresh Tart, she's writing for Andrew Zimmern's Kitchen Adventures on FoodandWine.com, contributing to Minneosta Monthly, and can generally be found somewhere around town, cooking, taking photos, writing, dining or  all of the above.  Let's just say she's scrubbed laziness from the Thesaurus.   Anyway, we met a few years back and our mutual passion for all things food quickly had us scheming on flavors.  Talks of collaboration on a flavor followed,  so I asked Steph to send us some of her current favorite flavors or ingredients as a catalyst for this collab.  An email returned to my inbox with the following:
Popcorn
Almonds
Caramel
Brown Butter
There were more potential flavors on this list, but these were the only ones that I saw.  Translation: Poppycock!  At least that's how I first imagined it – popcorn (awesome) and nuts (even better) all covered in caramel and/or toffee (party).  We were going to  hearken back to one of our first flavors on this blog -Brown Butter Popcorn – and make a Poppycock version of it.  Time to make some ice cream.
First. The popcorn.  Popcorn is a mutual staple in Steph's and our households and we're both fans of flavoring it with brown butter.  It was an obvious choice as the main elements of the ice cream base.
The first step in making this particular base is taking fresh pan popped pop corn, not microwave popcorn, or air popped, but popped old school in a pot with hot oil.  Why?  Because you get the most natural, classic popcorn flavor from the oil cooking the corn over heat.  Microwave popcorn is totally out of the question for many reasons, (no thanks butter "flavor") and airpopped just won't provide enough oomph.  Once it's popped, we pulverized it in a blender and then mixed into the base and steeped to extract as much of the flavor into the cream as possible.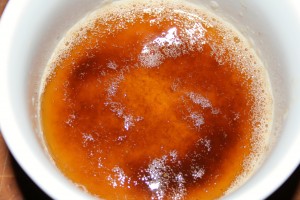 While the base is heating/steeping, brown butter is whisked in.  The brown butter is such an incredible flavor on its own, and combined with salt makes the popped corn flavor much more prevalent, which is exactly what we want.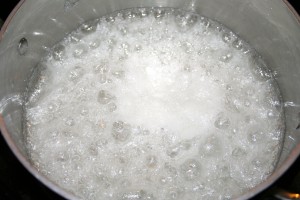 Boiling sugar.
For this flavor we're sticking with a classic caramel – with plenty of salt.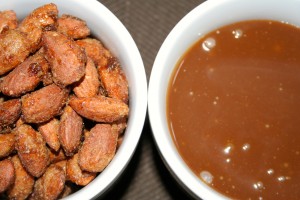 We chose to candy the almonds whole, since the true prize of poppycock is the toffee coated nuts.  The caramel is swirled into the brown butter popcorn base and the nuts are peppered throughout.
The moral of the story?  Ice Cream is just as right for a cold, snowy night in March as it is a warm dusk in late June. Popcorn, Brown Butter, Almonds, Caramel mean victory.  This one is a champ.  A buttery, popcorn infused ice cream with heaps of whole, candied almonds and ribbons of salty, gooey caramel.
Want to try it? You can win one of the only two pints in the world, filled with this fabulous, scratch made craft ice cream in our weekly pint giveaway. Enter your name in the comments section here, or on our facebook page under the posted contest. 2 lucky winners will be drawn randomly on Friday 3/8 at 4pm. Winners must be able to pick up locally and give us feedback. Pints must be claimed by email within one week or we will redistribute. 🙂 Good luck!