Ok, so we've pretty much been making graham cracker ice cream since the beginning of time. For real though, it's one of the first flavors that we ever made and has serious credibility. As a child, I remember dunking graham crackers in my glass of milk, and sometimes just throwing a bunch of large chunks in a bowl with milk and eating it like cereal. The combo is timeless, and yet we still haven't introduced you all to our plain graham cracker ice cream. And once again, we won't this week either, because sometimes we just have to roll with a thought and see what becomes of it. So this week, we're rocking our graham cracker ice cream infused with a little Fall flare: Parsnip Graham Cracker. Lets jam out…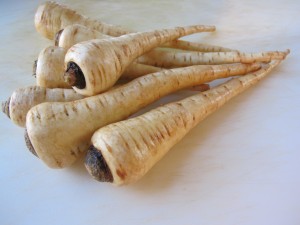 These are parsnips y'all! Similar to a carrot, but sweeter. Parsnips are usually harvested after the first frost, and can often stay in the ground all winter long  if covered with straw. The longer they stay in the ground during cold months, the sweeter they become as their starches turn to sugars.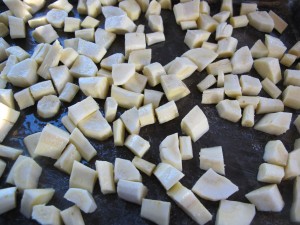 We are infusing our ice cream with parsnip flavor, so first thing we're going to do is peel, chop, toss with butter and roast in the oven until they are soft and aromatic.
The roasted parsnips then get thrown into our brown sugar ice cream base to steep overnight. The mixture is strained and then ready for a churn. The brown sugar itself gives the ice cream base a butterscotch quality, but with the addition of the parsnips, their naturally butterscotch-esk flavor makes for a double down.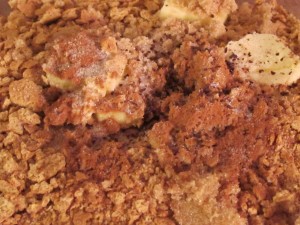 Now we need to crank out some graham cracker chunkers to add in at the end of the churn.
We have perfected our graham cracker chunkers over the years, so they are crunchy in the ice cream and not soft. We start by crushing whole graham crackers, then adding butter, brown sugar, cinnamon and salt.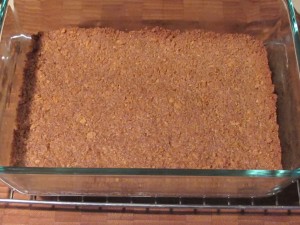 The mixture gets pressed into a pan or glass dish and baked in the oven until browned and smelling like ridiculously amazing graham crackers. They're done.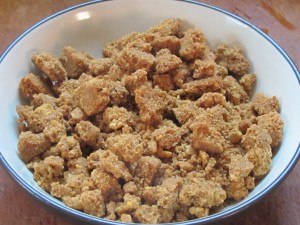 Graham cracker chunkers all broken up and ready to add into our parsnip ice cream at the end of the churn.
The result is a smooth creamy parsnip ice cream with salty spiced graham cracker chunkers.
You can win one of the only two pints in the world, filled with this fabulous, scratch made craft ice cream in our weekly pint giveaway. Enter your name in the comments section here, or on our facebook page under the posted contest.  2 lucky winners will be drawn randomly on Friday 11/9 at 4pm.  Winners must be able to pick up locally and give us feedback. Pints must be claimed by email within one week or we will redistribute. 🙂 Good luck!