The autumnal equinox has now past, so we have officially moved into Fall. The weather outside is showing it too, with twenty and thirty degree temperature fluctuations between night and day. The sun is rising later and setting sooner, which makes us all antsy to get out and get the most out of our days while we can. One of those great fall traditions that I shared with my family was hitting up the local apple orchard for picking, sipping cider, and if we were lucky, chowing a caramel apple. And that's the inspiration for this weeks FrozBroz flavor: Oat Granola with Caramel Apples. Lets get to it!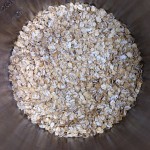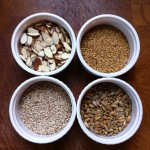 My three year old son is crazy for granola and yogurt, which pretty much makes it a morning staple at our house with the addition of some sort of fruit. Fruit and granola go hand in hand, so I thought it would make a nice base flavor for this weeks ice cream.
Our granola is comprised of rolled oats, almonds, sunflower seeds, sesame seeds, flax seeds, honey, brown sugar, oil, cinnamon and vanilla.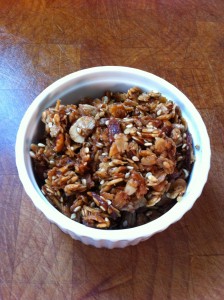 Everything gets tossed together and baked on a parchment lined baking sheet at a low temperature. It warms the house, and the aroma reeks of Fall.
This granola gets thrown into our brown sugar ice cream base and steeps over night. During the steeping process, the oats, seeds, and nuts break down and soften up releasing their starches into the ice cream base. After the granola gets pressed through a fine mesh strainer, the result is an ice cream base packed with oat starch, making for an ultra rich granola flavored ice cream.
Apples! Hoch Orchard Organic Gala Apples to be precise. I've found that I really dig Gala apples when making ice cream. As we always preach, one of our biggest challenges with fruit is getting out moisture content so it's not icy the creams. Not that Galas aren't moist, but they have a classic sweet apple flavor and when cooked down or baked, their juices condense with that powerfully sweet apple flavor.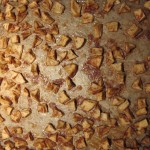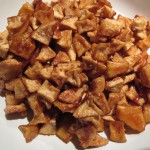 And that's just what we do with them. The apples get pealed, diced and tossed with a little butter, brown sugar, cinnamon and vanilla. They're placed on a parchment lined sheet pan and slow roasted in the oven until dehydrated and condensed in to soft apple pillow chunkers. Caramel time!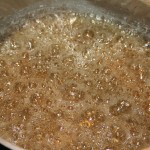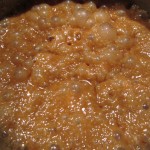 So we make a traditional caramel starting with just plain sugar and a little water. It gets boiled down until it turns an amber color and starts smoking a bit, at which point we add in our cream, stir, and that's it! We have caramel!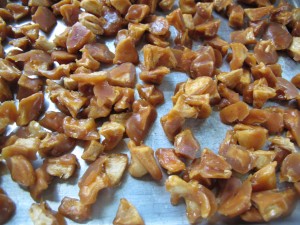 We pour the hot caramel over our roasted apple chunkers and here's what you get. Caramel Apple Chunkers! They get tossed into the ice cream at the end of the churn.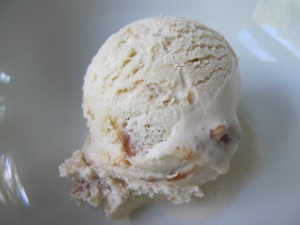 The final result is a rich creamy granola flavored ice cream with chewy caramel apple chunks. And that's the beginning of Fall in a scoop.
You can win one of the only two pints in the world, filled with this fabulous, scratch made craft ice cream in our weekly pint giveaway. Enter your name in the comments section here, or on our facebook page under the posted contest.  2 lucky winners will be drawn on Friday 9/28 at 4pm.  Winners must be able to pick up locally and give us feedback or else 🙂 . Good luck!