We continue to run with the seasonal flavors and late summer brings us to one of our faves – the peach.  These particular peaches came from Barnard Orchards in Wisconsin.  Love to get local peaches and these were incredibly juicy and sweet.  Since we've been incorporating the grill more and more, it seemed like it was the right thing to do for this flavor, since peaches on the grill are extremely necessary for a fully recognized summer.
Sweet enough to bring the southern drawl out in anyone.
And to the grill they went, to get a nice char and to caramelize all of that sweet peach sugar.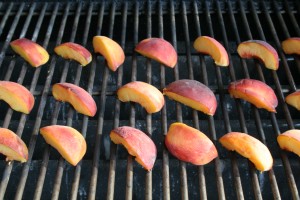 After the grill, they were diced and roasted a bit more to further caramelize the sugars and remove the remaining moisture that would turn icy in the freezing process.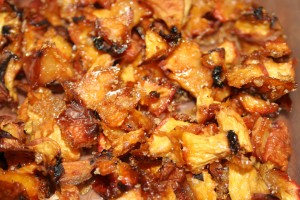 At this point, they're basically candy.
The cinnamon syrup was stolen from a decadent family favorite dessert my mother makes called cinnamon pudding cake.  It is very similar to honey in consistency – brown sugar boiled with a bit of water, butter, and cinnamon until it reaches a thick consistency.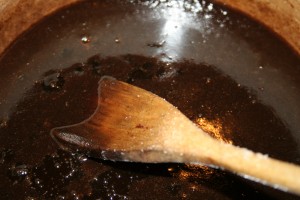 Its amazing in ice cream, on ice cream- and pancakes and waffles don't mind it either.
Finally the ice cream, made with our brown sugar base, is filled with these golden peach morsels and swirled with the cinnamon syrup as it is packed into the pint.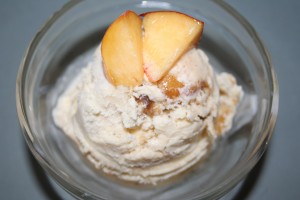 Not a bad way to celebrate the final days of summer.  Can you tell how much fun we're having yet?
Want to try some? As we do every week, we'll be giving away two pints of this flavor. Just leave a comment on our facebook page to be entered into the drawing. If you don't have a facebook account, leave a comment right here on the blog. We'll draw two winners on Friday afternoon (8/24/2012) at 4pm and will announce them on our facebook page (or email you if you're comment resides here). Our only conditions are you must be able to pick it up here in Minneapolis, and agree to give us a little feedback that can be shared with everyone else. Good luck!