The original concept for this flavor began with the idea of somehow using polenta – which is very similar to grits but has subtle differences, such as the type of corn used..but that's elaboration for another time.  The fact is I had grits on hand, so out of convenience came a slight course deviation that led here.  Why?  Well, for one – I love breakfast themed ice cream flavors.  I also love grits, and grits for breakfast so I ran with it.  Plus, It's maple syrup season, so it would only be right to have a flavor with some maple syrup in it.  Truthfully, we use maple syrup and maple sugar pretty often, but we'll happily take advantage of an excuse to use it more.
Now regular course ground grits uncooked don't have a whole lot of flavor.  So I chose to toast the grits just a bit in a hot pan to bring some more of the flavor to life.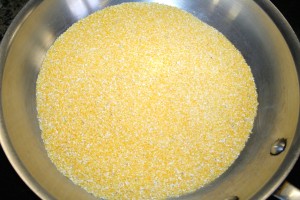 At the same time, a basic ice cream base is prepared and heated on the stove.  The idea is to have the the base heated to around 115 degrees or so, and to add the hot toasted grits into the warm cream to coax as much flavor out as possible.  Once the base is finished cooking the grits are strained out with a fine mesh strainer.  A little bit is reserved to add just a little crunch to the ice cream without being grainy.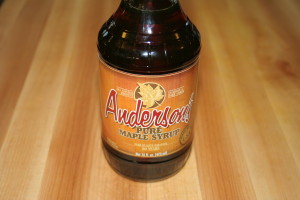 Ah, the syrup.  There is so much good maple syrup to choose from in the midwest.  This particular flavor of ice cream was blessed with some of the fine goodness produced by the folks of Anderson's Maple Syrup in Cumberland, WI.  The maple magic is layered in as the ice cream is packed into the pint containers.
The finished product reminds me a bit of the cereal corn pops.  It's rich ice cream, infused with a toasted corn flavor, and wonderfully accented with a swirl of rich maple syrup.
Toasted Grits with Maple Syrup Ice Cream Recipe
(makes approx 1-1/2 quarts)
Ingredients:
1 Cup of course ground corn grits (polenta would also work)
1/2 Cup of Maple Syrup
2 Cups Heavy Cream
1 Cup Whole Milk (use any fat percentage you prefer – higher lends to a creamier base)
3/4 Cup of Sugar
2 Eggs
1 teaspoons salt
Instructions:
Crack eggs into a mixing bowl and whisk fully. Add sugar and whisk until sugar and eggs are combined. Add cream, salt and whisk again until all are fully incorporated.  Place in pot in preparation to cook the base and get it started warming over medium heat on the stove, timed so it is starting to warm when the grits are finished toasting and still hot.
Add 1 cup of grits to heavy pan and heat over medium high, stirring frequently until they start to smoke and just begin to lightly brown.  Add immediately to warm ice cream base.
Continue to cook ice cream base over medium heat, stirring continuously. Heat mixture until temperature reaches 165 degrees. Remove from heat.  Cool the ice cream base to room temperature (an ice bath will do this in about 15-20 minutes).  Strain out all cooked grits with a fine mesh strainer.  You can toss the cooked grits, or if you're creative find another use for them, (they taste pretty amazing on their own). Place strained ice cream mix in a container, cover, and chill in refrigerator overnight.
3.  Churn ice cream base in ice cream machine according to manufacturer's instructions. Layer in maple syrup as you pack the ice cream into the container you will freeze it in.  Freeze in a tightly covered container for at least 4 hours, preferably overnight if you can wait.  Then, enjoy!
*Yields approximately 2.5 pints of ice cream.
If you'd rather not make it, you can be one of two lucky winners of this fabulous, scratch made craft ice cream in our weekly pint giveaway. Enter your name in the comments section here, or on our facebook page under the posted contest. Two winners will be drawn randomly on Friday 4/17/15 at 4pm. Winners must be able to pick up locally in Minneapolis. Prizes must be claimed by email within one week or we will redistribute. 🙂 Good luck!