A few weeks back we had a request for a flavor that featured graham crackers.  We love and encourage flavor requests, and were happy to run with that  idea and pair it with our annual outpouring of love for strawberries.  As we often do during the few weeks strawberries are available, we can't help ourselves from creating at least a few flavors with them.  Maybe it's pure selfishness on our part, but we can't get enough of them.
For the graham cracker, we had to do a little processing first to make sure it holds up in the ice cream. So we combine with some butter, salt and mayyybe a little sugar and puree in a food processor until a new buttery dough forms.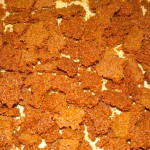 The mix is then spread out on a sheet pan and baked off in the oven until nice and crunchy, then broken up in preparation to go into the ice cream.
The strawberries are cooked down and make into a jam, and then added straight into the ice cream before the churn.
The end result is a fresh strawberry ice cream full of buttery, crunchy chunks of graham cracker. For sale soon, at our kitchen.
In the meantime, you can be one of two lucky winners of this fabulous, scratch made craft ice cream in our weekly pint giveaway. Enter your name in the comments section here, or on our facebook page under the posted contest. Two winners will be drawn randomly on Friday 7/11/14 at 4pm. Winners must be able to pick up locally. Prizes must be claimed by email within one week or we will redistribute. 🙂 Good luck!