It's strawberry season guys! Not to mention, it's 4th of July week, so we're taking this one out with a bang. Fans keep asking, "when are you going to do another flavor with chocolate in it?" Well, if this is going to be a bangin flavor, we're going to do that too. We're doing it all! This one is going to knock your socks off! Let's get started with this week's flavor – Buttermilk Strawberry Fudge Brownie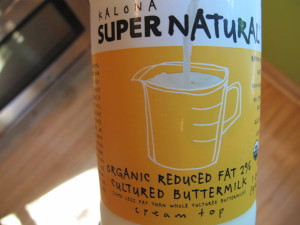 My hope is that people are never turned off by the word "buttermilk" being in a flavor. Buttermilk gives ice cream a rich subtle tang, and if you've had it with strawberries…yum, and if you've had it with chocolate…yum. We're doing both, so it's a double dog yummerson. For this flavor we're using our favorite Kalona organic buttermilk. It gets added into our standard cane sugar base before pasteurization. Here we also have some beautiful strawberries that we picked up at the Midtown Farmers Market. We're gonna jam these out to swirl into the buttermilk ice cream. The berries are cleaned, halved and go into a sauce pan with lemon juice and cane sugar. After a heavy simmer down, the strawberries are vibrant and jammy. The jam gets swirled into the ice cream at the end of the churn.
For the fudge brownies, we used a combination of Ecuador dark chocolate from Equal Exchange, and Valrona cocoa powder. The combination gets incorporated with butter, and then we add sugar, eggs, vanilla and flour before baking. We take the brownies out before the center is fully set, so the inside is gooey. These fudge brownies here…they're the chewy gooey ones. The bomb ones. The bars are frozen before they're chopped up and added into the ice cream.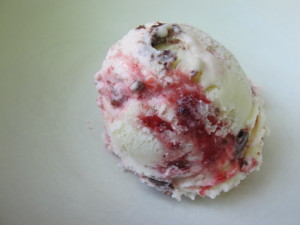 Strawberry season and 4th of July come together in bangin ice cream form. Rich buttermilk ice cream with layers of strawberry jam and chunks of chewy dark chocolate fudge brownies. Let's celebrate!
Buttermilk Strawberry Fudge Brownie
Strawberry Jam:
1 pint strawberries(about 1/2 pound), cleaned, stemmed and halved
3/4 cup + 2 Tablespoons sugar
2 1/2 teaspoons lemon juice
Fudge Brownies:
2 ounces dark chocolate(65% cocoa or higher), finely chopped
1 1/2 sticks of butter
1/4 cup + 2 Tablespoons cocoa powder
2 cups sugar
3 eggs
1 teaspoon vanilla extract
1 cup all-purpose flour
1/4 teaspoon sea salt
Ice Cream Base:
2 cups Heavy Cream
1 cup Buttermilk
3/4 cup Cane Sugar
2 Eggs
1/2 teaspoon sea salt
Instructions:
1. Strawberry Jam: Place a plate in the freezer. In a medium saucepan combine strawberries and lemon juice. Let stand for 15 minutes, stirring occasionally. Stir in sugar. Bring mixture to a boil over high heat, stirring frequently. Cook and stir until bubbles subside and jam appears slightly thickened, about 15 minutes. To test doneness, spoon a small amount onto the chilled plate. If jam wrinkles when you push your finger into it, it is done. If not, cook and stir a little longer before testing again. Let cool; cover and chill completely.
2. Make Fudge brownies: Preheat the oven to 350°. Line a 9-inch square cake pan with foil, and butter foil. In a large saucepan, melt the butter with the chocolate over low heat, stirring occasionally. Remove from the heat. Whisking them in one at a time until thoroughly incorporated, add the cocoa, sugar, eggs, vanilla, flour and sea salt. Pour the batter into the prepared pan. Bake in the center of the oven for about 35 minutes, until the edge is set but center is still a little soft. If a toothpick is inserted into the center it comes out coated with a little of the batter. Let the brownies cool at room temperature. Lift the brownies from the pan and peel off the foil. Chop 3/4 cup of brownies into 1/2 dice for ice cream. Freeze chopped brownies. Chow remaining brownies.
3. Make ice cream base: Crack eggs into a mixing bowl and whisk fully.  Add cane sugar and whisk.  Add heavy cream, buttermilk, and salt.  Whisk until ingredients are combined.
4. Cook/pasteurize ice cream base: Over medium heat, whisk or stir base continuously. Keep stirring continuously until temperature reaches 165-170 degrees.  Remove from heat. Cool ice cream base to room temperature (an ice bath will do this in about 15-20 minutes).  Put base in a clean container, cover, and chill in refrigerator overnight.
5. Churn ice cream base in ice cream machine according to manufacturer's instructions. Add 3/4 cup of chopped fudge brownies to ice cream at the end of the churn. Swirl in strawberry jam after ice cream is in storage container. Store ice cream in air tight container in freezer until chow time.
*Yields approximately 2.5 pints
If you'd rather not make it, you can be one of two lucky winners of this fabulous, scratch made craft ice cream in our weekly pint giveaway. Enter your name in the comments section here, or on our facebook page under the posted contest. Two winners will be drawn randomly on Friday 7/3/15 at 4pm. Winners must be able to pick up locally in Minneapolis. Prizes must be claimed by email within one week or we will redistribute. 🙂 Good luck!