Around a year ago, I found myself snooping around the kitchen on a Friday night looking for ingredients I had on hand to mix up a new flavor. Often times, trying to find creativity with a multitude of options at the grocery store can be self defeating, and I'll end up defaulting to something I know rather than coming up with a new idea. Since the stores were already closed anyway, I opted to force myself to create with what I had at my disposal. Using this method can definitely up the "weirdness ratio" as far as flavors of ice cream are concerned, but every once in awhile we hit on something.
In this instance, the decision ended up being Popcorn. We've had success with both roasted and fresh sweet corn ice cream late in the summer, and our cornbread ice cream has always been well received, so why not try another variety?
I popped a fresh batch on the range, pureed it (pureed popcorn is interesting on its own –  a substance that kind of resembled Styrofoam)  and went about figuring out how to make the ice cream taste like popcorn without having to navigate the chewy kernels.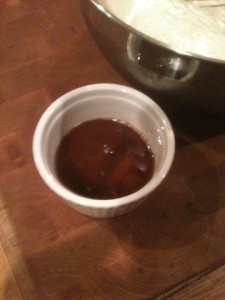 While Caramel corn was a tempting idea, and one that we'll probably pursue in the future, we chose to go with a straight up popcorn flavor. However, as a twist we decided to add some brown butter to the base to bring out a little more of the nutty/buttery flavor popcorn gets from popping in a pan.  Oh..and maybe add a little extra fat.
We ended up with a near perfect match. As we do every week, we're giving away a pint of this weeks flavor, so be the first to comment here or on our Facebook page and you can judge for yourself.