I was dead set on doing a mango flavor this week because the Ataulfo mangos are here and they are so dang good. There were a lot of iterations and ideas to pair with the mangos including habeneros, coconut, mint, basil and lime – all which we might play with down the road. However, the idea of making a mango lassi ice cream hit me like a lightning bolt and there was no way I could pass it up.  Nothing like something refreshing and invigorating to celebrate early summer.
A "lassi", if you are not familiar, is a drink similar to a smoothie – very popular throughout India and surrounding countries. It's typically made with pureed fruit, spice and yogurt.  For this week's flavor the atualfo mangos were paired with greek yogurt and cardamom.
The process for this ice cream begins with fresh ripe mango, pureed with greek yogurt.  We're big fans of the Greek Gods greek yogurt because it's got a great creamy texture that works perfect in ice cream.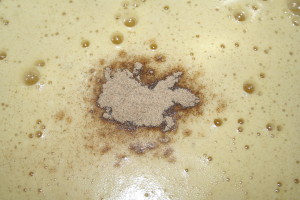 While the key ingredient in this flavor is having good quality, ripe mangos – the ingredient that brings it all home is the cardamom.  In this flavor the cardamom takes a subtle back seat role to the mango flavor, but the flavor as a whole wouldn't be complete without it.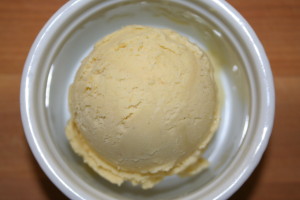 The scoop – mango lassi wrapped up in a scoop of ice cream.  A rich, mango yogurt ice cream tinted with cardamom.  And you can pick up a pint for yourself starting this Saturday at our home kitchen.
Mango Lassi Ice Cream
(makes approx 1-1/2 quarts)
Ingredients:
2C Heavy Cream
1C Greek Yogurt, full fat (or less if you'd prefer)
2 Mangos
2 Eggs
3/4C Sugar
1/2 tsp ground cardamom
Instructions:
Peel and dice mango and puree with yogurt in food processor or with wand blender until all is smooth. Crack eggs into a mixing bowl and whisk fully. Add mango puree, cream, and cardamom and whisk again until all are fully incorporated.  Place ice cream mix in heavy pot and cook over medium heat, stirring continuously until temperature reaches 165 degrees. Remove from heat.  Cool the ice cream base to room temperature (an ice bath will do this in about 15-20 minutes).   Once cool, place ice cream mix in a container, cover, and chill in refrigerator overnight.
3.  Churn ice cream base in ice cream machine according to manufacturer's instructions. Freeze in a tightly covered container for at least 4 hours, preferably overnight if you can wait.  Then, enjoy!
*Yields approximately 2.5 pints of ice cream.
If you'd rather not make it, you can be one of two lucky winners of this fabulous, scratch made craft ice cream in our weekly pint giveaway. Enter your name in the comments section here, or on our facebook page under the posted contest. Two winners will be drawn randomly on Friday 6/12/15 at 4pm. Winners must be able to pick up locally in Minneapolis. Prizes must be claimed by email within one week or we will redistribute. 🙂 Good luck!