Happy Thanksgiving!  In keeping with our tradition of creating holiday themed flavors this time of year, we've chosen the sweet potato route for this week's flavor.  Sweet potatoes are one of my favorite things – and are an unsung star both as a side dish and a dessert for Thanksgiving dinners across the country.  The sweet potatoes' natural sweetness pairs very well with many flavors.  Thus we chose to throw some bourbon in (it's pretty cold out) and sweeten the deal with maple.  Good solid fall flavors, and colors.
For the sweet potato base, we roasted the potatoes in butter to get out some of the moisture and concentrate the sugars.  Plus they get all nice and caramelized which gives them a nice depth for the base.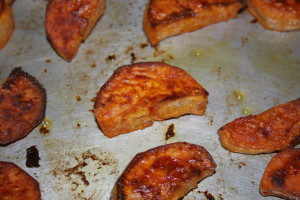 Once the sweet potatoes are finished roasting, they are pureed while still warm with cream.  The puree is added in with the rest of the cream, bourbon and sweetened with maple sugar.
We use maple sugar in this recipe because it has all of the flavor of syrup but is a bit easier to work with as a base sweetener – and maple syrup will lower the freezing temperature of ice cream because of it's high sugar concentration.  All of the flavors mingle while the base is pasteurized over heat and a little bourbon is added again before the base is frozen.
And here you have it.  A rich sweet potato ice cream tinted with maple and rounded out with bourbon.  A perfect way to celebrate all we have to be thankful for this year.
You can be one of two lucky winners of this fabulous, scratch made craft ice cream in our weekly pint giveaway. Enter your name in the comments section here, or on our facebook page under the posted contest. Two winners will be drawn randomly on Friday 11/28/14 at 4pm. Winners must be able to pick up locally. Prizes must be claimed by email within one week or we will redistribute. 🙂 Good luck!