I've been having a hard time containing my excitement for this week's flavor for so many reasons.
We've talked for years about doing fully savory, non-sweet ice cream flavors but had never quite figured out exactly how to present them.   I made the decision earlier this summer that we couldn't wait anymore.  It was time to take a turn down this country road and see what we would find.
The world opened up when we came to the conclusion that this "obviously-not-a dessert" flavored dessert was exactly that.  Not a dessert.  Still following me?  Ice cream as a condiment: this was where we found our traction.    This week's flavor (and I'm sure there will be many like this to come) is meant to be served with or as an accent to something else – a snack, salad or main dish. I was instantly inspired by one of my favorite childhood (and adulthood) snacks – chips and dip.  And, I'm in love with fresh summer chives.  The thought of dipping a potato chip into a scoop of cold, fresh sour cream and chive ice cream on a hot summer day was one I immediately wanted to capture. Shall we??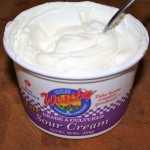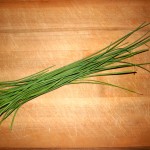 IT all starts with fresh summer chives picked straight from my backyard.  Since we aren't making a sweet dessert ice cream, the big difference is in the amount (or lack thereof) of sugar.  We still use the same cream and eggs approach, but the sugar is reduced by about 97%.  It still serves a purpose, but only to round out the flavor.  The idea was to make a very clean tasting cream base so the chives and acidity of the sour cream could star.
We follow the same process as we do for all of our other flavors at this point – the chives are minced and steeped in the cream base during the cooking process.  The steep brings out the fresh chive flavor without cooking it too much.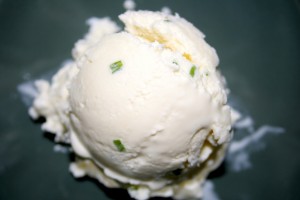 Let me tell you – the end result is magical.  It really is.   The ice cream is very clean, not sweet at all – a hint of salt with a nice sour cream foundation and bright, fresh chive flavor.  The real excitement came when I was able to serve it up to friends and witness their reactions.  I scooped a couple of large scoops into a bowl and set it out with good quality potato chips for friends to dip in the super cold ice cream, just as I had imagined it.  It was a hit, and one that I expect will have us venturing back into this territory soon – perhaps even offering some pints for sale at the shop in the near future.  Ice Cream as a condiment – it's happening!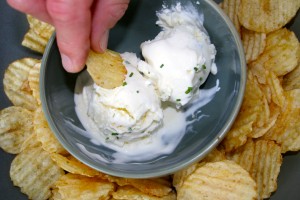 You can be one of two lucky winners of this fabulous, scratch made craft ice cream in our weekly pint giveaway. Enter your name in the comments section here, or on our facebook page under the posted contest. Two winners will be drawn randomly on Friday 8/15/14 at 4pm. Winners must be able to pick up locally. Prizes must be claimed by email within one week or we will redistribute. 🙂 Good luck!