We haven't done a vanilla centric flavor in awhile, so I took the opportunity this week to remedy that.  While it's true my sons are completely spoiled in their access to ice cream, the wide assortment of flavors we make are often complex and a little challenging for them.  I wanted to tailor something more for them, especially with birthdays coming up – we HAD to have some kind of ice cream to eat with the cake.  Hence, we arrived at this week's flavor – very much a vanilla but tinted with just a twist as we do.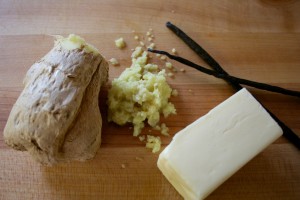 The process for this flavor is relatively simple – it's all in the base.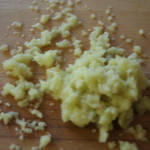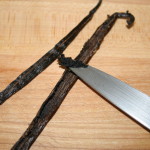 First, the ginger is finely grated and added fresh to the cream base, along with fresh vanilla bean.  Vanilla extract works fine in a pinch, but nothing compares to actual vanilla bean flavor.  All of these flavors steep and infuse into the ice cream base during the cooking process – so it is important that they go in beforehand or their flavor will not be as intense.
A little bit of butter is browned in a pan, and whisked in once the ice cream base has reached a temp around 120 degrees Fahrenheit.  If added in while the ice cream base is cold, it coagulates immediately and you get chunks of brown butter which you most likely don't want.  When added in while warm, it gets whisked into the base and emulsifies to become one.  Harmonious brown butter flavor in an umami concert with ginger and vanilla bean and cream.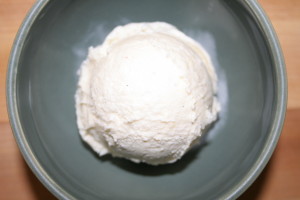 The scoop – a beautifully rich, ginger and brown butter tinted vanilla bean ice cream.
Ginger Brown Butter Vanilla Bean Ice Cream
(makes approx 1-1/2 quarts)
Ingredients:
2C Heavy Cream
1C Milk (use any fat percentage you prefer – higher lends to a creamier base)
2 Eggs
3/4C Sugar
1 Whole Vanilla bean
1Tablespoon of finely grated ginger
2Tablespoons of melted butter (browned)
1/2 tsp salt
Instructions:
Crack eggs into a mixing bowl and whisk fully. Add grated ginger, vanilla bean (scraped from pod) and sugar to eggs and whisk until all are combined well. Add cream,milk,  salt and whisk again until all are fully incorporated.  Note: You can add in the vanilla bean pod to steep during the cooking process for more vanilla flavor, but make sure to pull it out and discard before freezing the ice cream.  Place ice cream mix in heavy pot and cook over medium heat, stirring continuously.  Once mix reaches 115 degrees Fahrenheit, whisk in the melted browned butter until emulsified into the ice cream base.  Continue to heat ice cream mixture until temperature reaches 165 degrees. Remove from heat.  Cool the ice cream base to room temperature (an ice bath will do this in about 15-20 minutes).   Once cool, place ice cream mix in a container, cover, and chill in refrigerator overnight.
3.  Churn ice cream base in ice cream machine according to manufacturer's instructions. Freeze in a tightly covered container for at least 4 hours, preferably overnight if you can wait.  Then, enjoy!
*Yields approximately 2.5 pints of ice cream.
If you'd rather not make it, you can be one of two lucky winners of this fabulous, scratch made craft ice cream in our weekly pint giveaway. Enter your name in the comments section here, or on our facebook page under the posted contest. Two winners will be drawn randomly on Friday 5/15/15 at 4pm. Winners must be able to pick up locally in Minneapolis. Prizes must be claimed by email within one week or we will redistribute. 🙂 Good luck!