Tamarind is one of those sleeper ingredients and it is utilized as an ingredient in more things than you might think – from Worcestershire sauce to pickles to candy and desserts . Its got a sour, almost dull citrus flavor that isn't all that appealing on its own – but when sweetened with sugar it comes to life.  I've been passing by a basket of the pods in the grocery store for a few months now and finally got around to snatching some up and making ice cream with them.  For this flavor I chose to pair the slightly sour and tropical tamarind with a coconut caramel.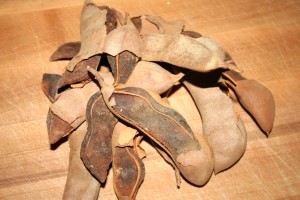 The tamarind is not the easiest thing to work with.  These pods have a hard shell that must be cracked off, and found inside is the pulp which surrounds seed pods.  To get the flavor into cream, I made a syrup and steeped tamarind directly into the ice cream base as well.
While the base steeped with tamarind pods, we went to work on the coconut caramel.  The first step was to toast coconut, which makes them more flavorful and heats the coconut oils for a more powerful steep.  The toasted coconut is then steeped in cream, which will is then used to cool the caramel and make it into the sauce.
Sea salt is added once the caramel has formed up, which brings out the coconut flavor even more.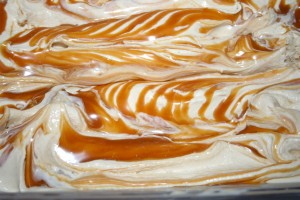 After the tamarind ice cream has churned, we swirl the coconut caramel in and pack it into the pint.
And that brings us to the scoop – a delightfully sour and rich tamarind ice cream, decorated with ribbons of salty toasted coconut steeped caramel.
Like to try some? You can be one of two lucky winners of this fantastic, scratch made craft ice cream in our weekly pint giveaway. Enter your name in the comments section here, or on our facebook page under the posted contest. Winners will be drawn randomly on Friday 5/16/14 at 4pm. Winners must be able to pick up locally. Prizes must be claimed by email within one week or we will redistribute. 🙂 Good luck!