It isn't often that we release a flavor that rides alone – one ingredient – no further augmentations. I can only think of a handful, out of the one hundred or so flavors that we've released over the past two years, since starting this here blog. Those that come to mind: Black Walnut, Fennel Pollen, Tomato, and of course, Triple Chocolate. There comes a time when we just want to know how certain flavors taste, on their own, in ice cream. Well, this week is one of those times. We chose one ingredient to ride alone – Bee Pollen!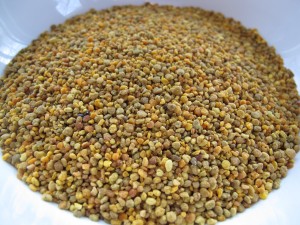 This is bee pollen. When a worker bee lands on a flower, it gathers the dusty pollen from the plant. This dust sticks to the back of their legs, and the bee then uses it's head, along with it's nectar, to pack down the pollen dust, forming these bee pollen granules. They carry the pollen back to the hive where it is used as protein/food for the colony. Bee keepers have devised ways to knock the pollen off of the bees legs as it enters the hive, therefore bringing these pollen granules to market.  Bee pollen is readily sold as a nutritional supplement, as it has been said to be very nutritious and claimed to cure certain health problems. Scientific research over the years has not confirmed this.
So now that you know the basics of bee pollen, let's make ice cream with it, ok? The different colored granules symbolize the variety of plants the bee visited, which will effect it's unique aroma and flavor. It's flavor is sweet and nutty.  We steeped the pollen in our standard cane sugar ice cream base, give it a generous salting, and strained through a fine mesh strainer before churning. That's it!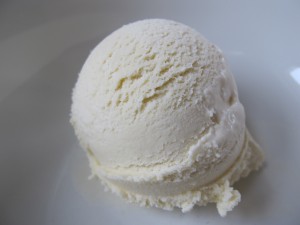 Bee Pollen Ice Cream!
It's sweet, creamy, nutty, honey-esk. It's unique! And that's why we needed to throw this one out there for a good 'ol solo run.
Want to try it? You can win one of the only two pints in the world, filled with this fabulous, scratch made craft ice cream in our weekly pint giveaway. Enter your name in the comments section here, or on our facebook page under the posted contest. 2 lucky winners will be drawn randomly on Friday 4/12 at 4pm. Winners must be able to pick up locally and give us feedback. Pints must be claimed by email within one week or we will redistribute. 🙂 Good luck!