If you're not familiar with Sriracha, you probably should be – over the past decade it has gone from a condiment usually relegated to restaurants of Asian flare, to a hot sauce that is found nearly everywhere.  I've been wanting to figure out a way to incorporate my favorite hot sauce into ice cream for awhile, and this flavor was literally built around accomplishing this task.
The trick with Sriracha is finding a way to minimize the impact of its garlic component, which has a tendency to take over ice cream and/or linger on the palate.  To combat this effect, I chose to use the hot sauce as a means to candy peanuts so as to hopefully provide it with a vehicle to poke through.
The method for candying the peanuts is simple.  Brown sugar and sriracha sauce are whisked into an egg white and raw peanuts are tossed in the mix until coated.  They are then roasted in the oven at 325 degrees for 20-30 minutes or so. When they come out they are coated in a beautiful spicy sweet candy coating which holds up perfect in the ice cream.
If you're looking for a easy snack, you could do a lot worse.
For the base, I chose coconut since it pairs so well with Sriracha and peanuts.  In this case we created a dairy base steeped with toasted coconut.  Apologies to our vegan and dairy free crowd this iteration is not for you.  But it could just as easily be made with all coconut milk and no eggs.  To round it out and give it a little more oomph, cinnamon was added at the end.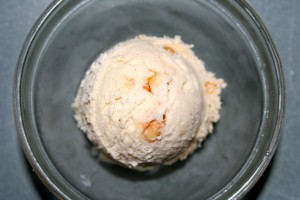 The peanuts were added into the coconut cinnamon base at the end of the churn.  The result is a creamy coconut ice cream with a hint of cinnamon, studded with crunchy Sriracha candied peanuts.
Like to try some? You can be one of two lucky winners of this fabulous, scratch made craft ice cream in our weekly pint giveaway. Enter your name in the comments section here, or on our facebook page under the posted contest. Two winners will be drawn randomly on Friday 1/17/14 at 4pm. Winners must be able to pick up locally. Prizes must be claimed by email within one week or we will redistribute. 🙂 Good luck!
Don't forget, our next pint sale is coming up Saturday, February 8th. Click here for details.