Since we've been on a bit of a spice kick with the Fennel Pollen and Baharat flavors in recent weeks, we thought we'd continue down the same path with a feature of the mainstay we've neglected until now -Vanilla.  We use vanilla a lot, but haven't given it a feature yet. Over the past few years we've kicked tons of different vanilla ideas around,  but none have really stood out.  That isn't to say we don't worship a classic vanilla bean or french vanilla flavor, but we wanted something a little more exciting.
We both spend a lot of time in front of the grill, regardless of the season, and have been doing it for far longer than we have been making ice cream together. You could say we're a bit fanatical when it comes to cooking over a fire.  So, when the idea of doing a smoked vanilla came up during a recent flavor meeting, it naturally resonated with both of us.  
It starts with a quality vanilla bean.  We have used many different forms of vanilla from various locations across the globe, but keep coming back to the Bourbon Vanilla bean for its dense vanilla flavor.  Since we obviously don't have a local source for it, we always search for a fair trade option.
Next comes the smoke.  We explored and considered several different options for smoking the vanilla bean, including what wood to use, temperature, time, etc.  We experimented with a few, and ended up using hickory for our wood, and smoking the vanilla bean with heat to dry it out.   We learned a lot in the process and discovered some interesting variant paths both with different smoking wood and temperature, which we'll certainly explore in future flavors.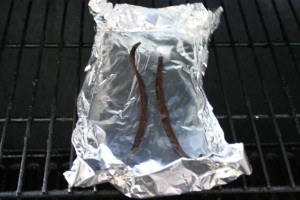 Smokey the bean.
Once cooled, the whole beans were ground up to a fine powder, mixed and then steeped in the cream base before churning.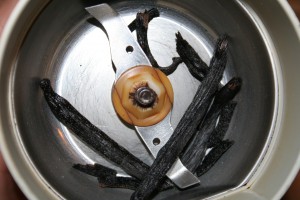 And that's that.  Smoked Bourbon Vanilla Bean.  Would pair excellent with just about anything, especially if it was cooked over an open flame.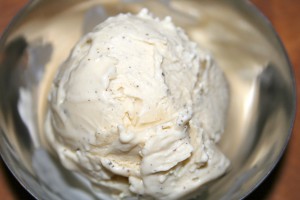 As we do every week, we'll be giving away two pints of this flavor. Just leave a comment on our facebook page to be entered into the drawing. If you don't have a facebook account, leave a comment right here on the blog. We'll draw two winners on Friday afternoon (6/1/2012) at 4pm and will announce them on our facebook page (or email you if you're comment resides here). Our only conditions are you must be able to pick it up here in Minneapolis, and be willing to give us a little feedback that can be shared with everyone else. Good luck!