A few weeks back, we released our Coconut Bar w/ Banana Caramel, a flavor inspired by a mid-winter trip to Mexico and the coconut bar from the gods. This week, it's another Mexican-inspired flavor, as we craft a rice milk ice cream and a goat milk caramel made with local goat milk from our faves, Singing Hills Goat Dairy. Let's get started with this week's flavor: Horchata with Cajeta!

Before we assume that everyone has had Horchata, let me just give you a brief run down. It's really good and tasty. Ok, are we good then? I mean it, but seriously, Horchata is a beverage that is found in many Latin American countries along with Spain. It's made in many different ways using either ground rice, seeds, almonds, etc. Probably the most commonly found version of Horchata here in the US is the Mexican version; which utilizes ground rice, water, milk, sugar, cinnamon and sometimes vanilla. For our ice cream base, we used long grain white rice pictured above. We pureed the rice in a blender with our cream, added a few cinnamon sticks and let steep overnight in the refrigerator. We make our organic cane sugar base, add the strained rice cream and a touch of ground cinnamon, and our mix is ready for the churn.
Next, it's time to make our Cajeta. Cajeta? It's a Mexican caramel/syrup made by slowly simmering milk and sugar for a long period of time. This isn't going to be just any ordinary Cajeta though…we're making a goat milk cajeta with Singing Hills goat milk. Lynne Reeck and Kathryn Wall are Singing Hills' owners.  In our opinions, they are making the best fresh goat cheese around. "Like" them on Facebook, go buy their cheese at Mill City Farmers Market, Fulton Farmers Market, and Kingfield Farmers Market, and check out this great article about them from Heavy Table(Lynne Reeck of Singing Hills Goat Dairy). And please, help support our local farmers.
Thanks to them, and of course Lynne's sister Nancy, for her door-to-door delivery, we got our hands on a quart of their tasty goat milk for Cajeta-making. The sugar, goat milk and cinnamon stick are mixed and brought to a simmer.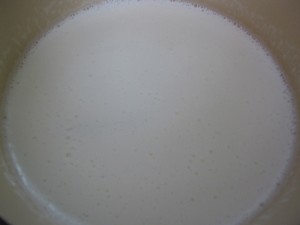 For comparison sake, I wanted you all to see the transformation of the Cajeta over a 60-80 minute period of simmer down. It's color becomes darker and darker until finally the Cajeta has reached full caramelization.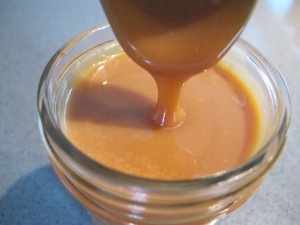 Singing Hills Cajeta! It kind of makes me speechless it's so good.  It's much different from a traditional caramel. It's lighter, and has a beautiful clean finish, with a slightly tangy acidity to it. It's something we hope to have around a lot in years to come as our business grows. The Cajeta gets layered into the pints during packaging.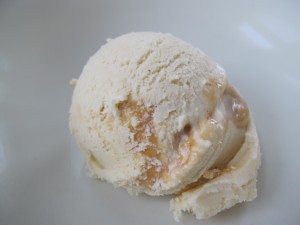 Boom! Horchata with Cajeta! Creamy rice milk ice cream layered with Singing Hills goat milk caramel. It's a little bit of Mexico and Minnesota all in one pint.
Want to try it? You can win one of the only two pints in the world, filled with this fabulous, scratch made craft ice cream in our weekly pint giveaway. Enter your name in the comments section here, or on our facebook page under the posted contest. 2 lucky winners will be drawn randomly on Friday 3/29 at 4pm. Winners must be able to pick up locally and give us feedback. Pints must be claimed by email within one week or we will redistribute. 🙂 Good luck!