Well, our first ever "Fan Flavor Contest", is in the books. The winner got a stylin' FrozBroz T-shirt, but more importantly we made a batch of their flavor and gave them a pint of it. Another lucky fan gets a pint as well. Based on the number of suggestions we got, we would have to say, it was a success. Thanks to all who made suggestions – they were all fantastic ideas. Stay tuned to our Facebook and Twitter pages as we will be announcing more contests in the weeks and months to come. It was really great to see our fans' creative minds at work. A big congratulations to Ann Harste who was our first ever winner with her suggestion of Apricot Parmesan.
Let's get to work…
From the beginning we had thoughts of apricot marmalade. We just weren't sure if we wanted to layer the marmalade in,  or mix it right into our ice cream base. Either way, marmalade it was.
These are beautiful Turkish apricots purchased at our favorite Seward Coop.
To get the marmalade going, we diced them up, covered with water and brought them to a simmer.
After simmering for awhile, we added sugar and continued simmering until we ended up with…
Apricot marmalade!
This is gold. The depth of flavor here is intensely apricot, as one might expect. In the end, we decided to mix the marmalade into the base, and layer into the pints as well. Double bonus!
Having Wisconsin in our blood, we've incorporated a variety of cheeses into many of our flavors, including Parmesan. In our Olive Oil Parmesan ice cream we finely grated the cheese so that it would almost disappear in the base. For this flavor, we wanted to get a nice shaving to cut through the sweetness of the marmalade.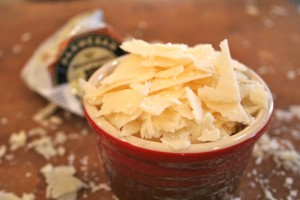 So that is what we did…shaved it. Sartori StraVeccio Parmesan from Plymouth, Wisconsin. It's fruity, nutty and has some roasted caramel tones to it. To add a little more nuttiness, we added a pinch of fresh ground nutmeg to the base. The Parmesan shavers get tossed in at the end of the churn.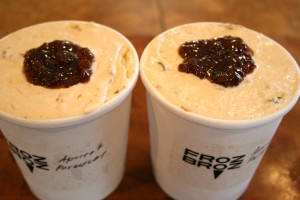 And there you have it folks. Our first ever "Fan Flavor Contest" comes to a close with Ann's suggestion of Apricot Parmesan Frozbroz style. Congrats Ann, and excellent suggestion!
Don't forget about our Indiegogo fundraising – we've got 44 days to go and need all the help we can get! http://www.indiegogo.com/frozbroz?a=446076
****
A quick update: Ann got us her feedback in no time, and we thought we'd share it – but we can only take 50% of the credit since the idea was all Ann 🙂
Wow you guys! Could my prize be changed to a lifetime supply? Besides more for us, I'd like to serve some to all the people who wrinkled their noses at me when I told them the flavor.

Both apricot and Parmesan have the potential to dominate, but you interpreted the idea in a way I didn't think of. Your ice cream recipe showcases both flavors while keeping them in balance with each other.

A truly decadent ice cream to savor slowly in order to appreciate the flavors and textures going on. I love to eat ice cream when it is like a treasure hunt to find all the goodies hidden in it. The apricot marmalade had an intensely deep and concentrated flavor and a great sticky texture with pieces of candied apricot. Finding the crumbles of Parmesan, which gave bursts of salty, tangy flavor, was my favorite part of the treasure hunt. And of course the body of the ice cream itself was luscious and creamy, with a hint of the apricot.

We all loved it.

My son started eating it and said "That's really good tasting Parmesan!" My husband took one bite and exclaimed "OH, that is good! I didn't think it would taste like this!"

To serve it, I made a shortbread crunch to sprinkle over the ice cream to replicate a favorite combination of mine which is a shortbread cookie topped with a cheese and something really sweet, like apricot or caramelized sugar. – Flavor Contest #1 Winner, Ann Harste